'God's palette' attracting photographers, backpackers
Every year in the dry season from February to March, a group of nature photographers and backpackers travel to the Aboriginal village of Wujie (武界) in Nantou County to witness the transformation of the Jhuoshuei River (濁水溪) into swirling colors of red and green.
Named "God's palette" by local residents, the phenomenon, which over the past few years has become an attraction — is caused by the rapid growth of water ferns, or plants of the Azola genus, during times of low rainfall and low river flow rates, the National Museum of Natural Science said.
Water ferns can reproduce both sexually and asexually, and as a result are highly prolific, capable of overgrowing a river surface in a remarkably short time, the museum said, adding that the genus favors relatively still bodies of water.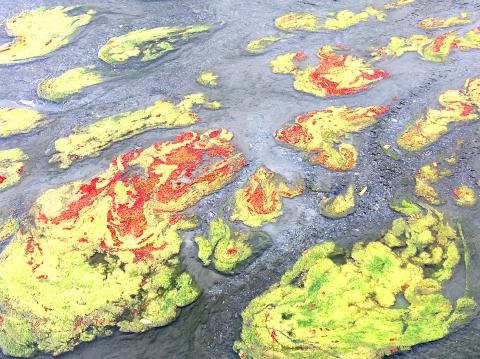 Water ferns float on the surface of the Jhuoshuei River in Nantou County's Wujie Village on Wednesday.
Photo: Tung Chen-kuo, Taipei Times
Ferns that are wilted by cold weather turn red, while unaffected ferns retain their green color, which produces swirls of red and green that are seen on the river, it said.
Water ferns are not found elsewhere on the river because it flows rapidly along most of its length, the museum added.
However, the river bed in the Wujie area is particularly wide, and during periods of unusually low rainfall in the dry season, its flow could be reduced to speeds that are suitable for water ferns to proliferate, it said.
As a result of climate change, water ferns have become a regular occurrence in the Wujie area, the museum said.
"Water ferns are aesthetically appealing because the shifting color patterns offer infinite compositions," a photographer said.
Comments will be moderated. Keep comments relevant to the article. Remarks containing abusive and obscene language, personal attacks of any kind or promotion will be removed and the user banned. Final decision will be at the discretion of the Taipei Times.