Hochen sought to resign over bus crash: Lin Chuan
Premier Lin Chuan (林全) yesterday said that Minister of Transportation and Communications Hochen Tan (賀陳旦) had sought to resign to take responsibility for the bus crash in Taipei on Monday last week, but said that accountability should only be discussed after investigations are completed and improvements are made by the government.
Lin said that Tourism Bureau Director-General Chou Yung-hui (周永暉) and Directorate-General of Highways Director-General Chen Yen-po (陳彥伯) — who on Sunday tendered written resignations — were not asked to resign, denying accusations by Chinese Nationalist Party (KMT) lawmakers that the two were asked to resign to "keep Hochen in office."
KMT Legislator Lai Shyh-bao (賴士葆) at a question-and-answer session in the legislature repeatedly called Hochen "shameless" and demanded his resignation "after 59 deaths in seven months."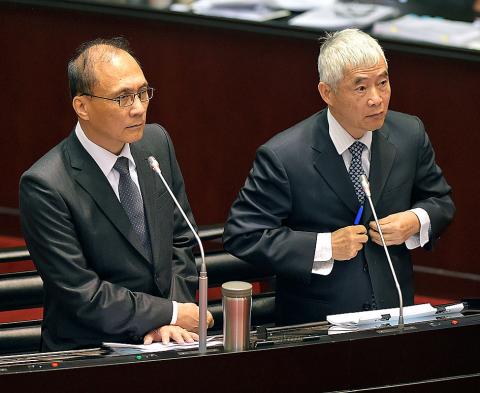 Premier Lin Chuan, left, and Minister of Transportation and Communications Hochen Tan answer questions at the legislature in Taipei yesterday.
Huang Yao-cheng, Taipei Times
Twenty-six people died in a bus fire attributed to the driver's suicide in July last year, while 33 died in last week's crash on a freeway offramp connecting the Chiang Wei-shui Memorial Freeway (National Freeway No. 5) to the southbound lanes on the Formosa Freeway (National Freeway No. 3) in Taipei's Nangang District (南港).
Lai accused Hochen of calling the driver in last week's crash "indecent," amounting to passing the buck to a dead man.
Hochen denied making the comment, prompting Lai to cite newspaper reports.
"You should base your questioning on facts rather than media reports," Hochen said.
Lin denied Lai's accusations that the government "passed the buck [for the bus fire last year] to Chinese tourists and the administration of former president Ma Ying-jeou (馬英九)."
"We did not blame Chinese tourists; [Lai's] remarks are irresponsible," Lin said.
The phenomenon of "integrated travel services" — where travel services such as hotels, restaurants and souvenir shops are all owned or invested in by a conglomerate — is in need of inspection, but pointing that out cannot be called a criticism of Chinese tourists, Lin said.
Minister of Labor Lin Mei-chu (林美珠) responded to accusations that she defined bus drivers' work hours to be only when their hands were "on the wheel."
Asked by Democratic Progressive Party (DPP) Legislator Chao Tien-lin (趙天麟) to expand on the definition, Lin Mei-chu said that according to the Labor Standards Act (勞動基準法), working hours are those during which employees are under the supervision of their employers at the workplace or places where the company operates.
"Rest time is when a worker is free from the employer's supervision and can do as they please," Lin Mei-chu said, but added that individual cases would have to be looked into separately to determine whether they constituted working hours.
When asked on Friday last week whether driver downtime during a tour — when tourists are not using the bus — should be counted toward working hours, Lin Mei-chu said that time when a bus driver is not restricted by the employer, "when they could take a walk, stretch or listen to music," is not considered working hours.
In related news, DPP Legislator Lin Chun-hsien (林俊憲) asked whether the Cabinet is poised to make more changes to labor regulations after passage of the "one fixed day off and one flexible rest day" rules.
Business leaders claimed to have secured a promise from President Tsai Ing-wen (蔡英文) to tweak the new regulations after complaining about negative effects on their industries, Lin Chun-hsien said, citing a media report.
Tsai did not agree to the proposal, the premier said, adding that the government would continue to facilitate communication with industries and that so far there is no plan to change the labor laws.
Comments will be moderated. Keep comments relevant to the article. Remarks containing abusive and obscene language, personal attacks of any kind or promotion will be removed and the user banned. Final decision will be at the discretion of the Taipei Times.