Contradictory polls unsettle Hung
Chinese Nationalist Party (KMT) Chairwoman Hung Hsiu-chu's (洪秀柱) office on Friday said its own poll had a different result from one published by a Chinese-language weekly magazine, which showed Hung trailing former vice president Wu Den-yih (吳敦義) and KMT Vice Chairman Hau Lung-bin (郝龍斌) in the party's chairperson race.
A poll, commissioned by the China Times Weekly magazine and published on Friday showed Wu leading with 20.1 percent support, followed by Hau on 17.4 percent and Hung on 16.8 percent.
In another poll, also by the magazine, that excluded pan-green supporters, Hau bested Wu with 24.7 percent to Wu's 23.1 percent, and Hung came in third with 21.3 percent.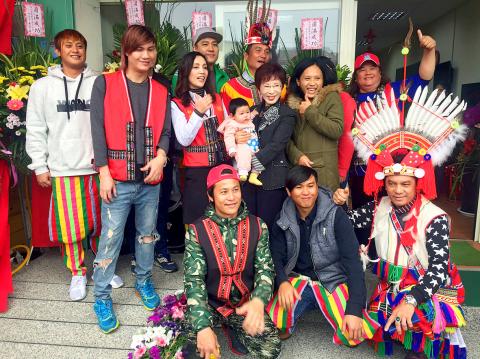 Chinese Nationalist Party (KMT) Chairwoman Hung Hsiu-chu, center, holding baby, attends the opening of the office of Hsinchu City Councilor Lin Tzu-ai, third left.
Photo: CNA
Hung's office said that the magazine's poll numbers "had apparent gaps with the general consensus and our office's poll results."
"The magazine's survey only had about 400 respondents; we would refrain from commenting on its validity," it said, adding that a poll commissioned by the office and conducted between Feb. 2 and 6 with more than 1,200 samples from pan-blue supporters showed Hung had 65 percent support as party chairwoman.
"Hung's cross-strait peace policy platform was shown to have 78 percent support and she was also leading in the chairperson race, though without obtaining a majority," office spokesman Yu Hao (游顥) said, without providing precise numbers.
Hau and Wu yesterday said they would not place too much importance on the poll numbers, with Hau adding that what matters is being the first in the final vote.
Asked whether Hung's office conducted the poll using the party headquarters' resources, Hau said Hung should make public the poll if the party paid for it, adding that Hung has vowed to distribute party resources fairly and complete a list of party members, according to party regulations.
"What matters most now is for the party headquarters to quickly help set up an election committee with representatives recommended by all the chairperson candidates," he said.
Additional Reporting by Shih Hsiao-kuang and Wang Jung-hsiang
Comments will be moderated. Keep comments relevant to the article. Remarks containing abusive and obscene language, personal attacks of any kind or promotion will be removed and the user banned. Final decision will be at the discretion of the Taipei Times.