Small allies burden for Taiwan: Hsu
'UP TO CHINA': Taiwan is at a 'distinct' disadvantage when it comes to competing with Beijing over the retention of its diplomatic allies, Hsu Hsin-liang said
Having small nations as diplomatic allies is a burden for Taiwan, Foundation on Asia-Pacific Peace Studies chairman Hsu Hsin-liang (許信良) said yesterday.
Hsu's remark came after Sao Tome and Principe on Wednesday announced that it is cutting diplomatic ties with Taiwan.
Hsu, a former chairman of the Democratic Progressive Party (DPP), was speaking at a seminar hosted by the foundation regarding questions over whether the Sao Tomean government's actions will cause a cascade of diplomatic allies severing ties with Taiwan.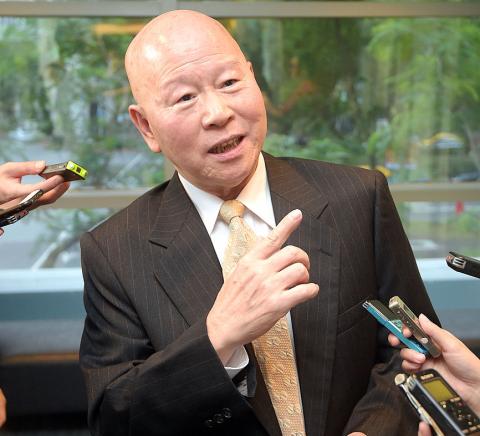 Former Democratic Progressive Party chairman Hsu Hsin-liang speaks to reporters at a seminar at the Institute of Diplomacy and International Affairs in Taipei yesterday.
Photo: Huang Yao-cheng, Taipei Times
Any competition with China over diplomatic allies is at a distinct disadvantage, and in the end, it is up to China how many diplomatic allies we can keep, Hsu said.
We cannot do anything about it if China makes such a decision, but "the nation would very much welcome it if China attempted to take away all of Taiwan's diplomatic allies," Hsu said, but added that Beijing would not do such a thing.
Hsu said that having small nations as diplomatic allies is not a good thing, as they impose too much of a burden, adding that losing them "is not really important."
Hsu said that he has lived in Taiwan his entire life and has seen how the nation gained and lost diplomatic allies over the years through international interference.
Treating an incident that is not related to the survival and development of Taiwan as a setback is not how the nation should handle its affairs, Hsu said, adding that similar incidents "have happened throughout my life" and he does not like the kind of "international situation" that Taiwan is forced into.
The real problem is not about diplomatic allies, but how the nation handles its relations with the US and China, Hsu said, adding that such issues were "matters of life and death."
Hsu said that the nation he grew up in was constantly bickering over how to maintain its seat in the UN and whether to break ties with the US or Japan, adding that Taiwan is in a good situation in terms of international politics, and enjoys better ties with other nations than when the Republic of China (ROC) was one of the five permanent members on the UN Security Council.
China has always been hostile toward the DPP, and it is up to China to be practical and calm over cross-strait relations, Hsu said.
President Tsai Ing-wen (蔡英文) has made it clear that her administration will not antagonize China, Hsu said, adding that the Tsai administration's cross-strait policies was no different from the Chinese Nationalist Party's (KMT).
The government has agreed to treat cross-strait relations as designated in the Constitution, and it sought members of the pan-blue camp as officials in the Mainland Affairs Council and the Straits Exchange Foundation, Hsu said.
The president's treatment of cross-strait relations is pragmatic, rational and avoids breaching China's core interests and red lines, Hsu said, adding that it was up to China to adopt a similar attitude on cross-strait issues.
Comments will be moderated. Keep comments relevant to the article. Remarks containing abusive and obscene language, personal attacks of any kind or promotion will be removed and the user banned. Final decision will be at the discretion of the Taipei Times.