Same-sex marriage amendments stalled
VOCIFEROUS: Noisy opposition from members of the public included four people shouting 'Taiwan will become an AIDS island' as they tried to enter a committee room
Lawmakers on the Judiciary and Organic Laws and Statutes Committee yesterday had a turbulent time as they tried to discuss proposals to amend the Civil Code to legalize same-sex marriage, amid scuffles and protests interrupting the meeting, which finally ended last night with a decision to hold two open hearings next week ahead of a review of the bills.
Democratic Progressive Party (DPP) legislators had planned to review the proposed amendments, but they were blocked by stiff opposition from their Chinese Nationalist Party (KMT) and People First Party (PFP) colleagues.
There was also public pressure on DPP legislators, especially on committee convener Yu Mei-nu (尤美女), as an estimated crowd of 20,000 rallied outside the Legislative Yuan in Taipei to voice their objections to same-sex marriage.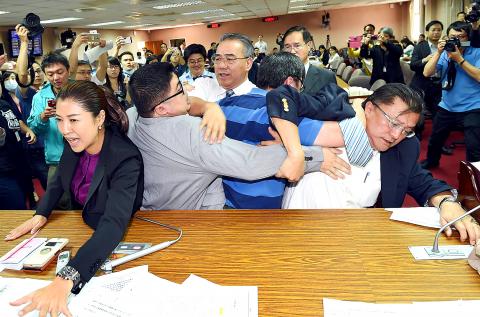 Democratic Progressive Party (DPP) Legislator Tsai Yi-yu, second left, front row, Chinese Nationalist Party (KMT) caucus convener Sufin Siluko, third left, front row, DPP Legislator Tuan Yi-kang, second right, front row, and KMT Legislator Yosi Takun, right front, yesterday wrestle during a legislative meeting to review a bill on same-sex marriage at the Legislative Yuan in Taipei.
Photo: Chu Pei-hsiung, Taipei Times
The rally was organized by a coalition of religious organizations and civic groups demanding the protection of "traditional family values," the upholding of Confucian moral ethics and the retention of the legal definition of marriage as the union between a man and a woman.
KMT and PFP legislators trying to stymie a review of the proposed amendments said they were reflecting the majority opinion of the public and that the review procedure had been rushed through and lacked the proper scrutiny and public consultations necessary.
The committee was scheduled to deliberate three different amendments were submitted by DPP, KMT and New Power Party lawmakers.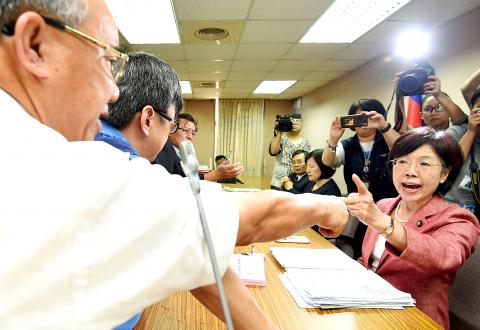 Chinese Nationalist Party (KMT) caucus convener Sufin Siluko, left, and Democratic Progressive Party Legislator Yu Mei-nu, right, point fingers at each other yesterday as they argue during a committee meeting at the Legislative Yuan in Taipei about proposed amendments to legalize same-sex marriage.
Photo: Chu Pei-hsiung, Taipei Times
KMT and PFP lawmakers joined forces in an attempt to push through a motion that would see 32 public hearings held nationwide before the proposed amendments could be deliberated by the committee.
However, with Yu presiding over the committee, DPP legislators voted down the motion and Yu announced the session would review the amendments until the end of the day's session.
Yu's announcement angered pan-blue camp legislators, with two KMT committee members, Sufin Siluko (廖國棟) and Yosi Takun (孔文吉) pushing their way up to a podium to protest, and engaging in a scuffle with several DPP lawmakers.
Four protesters had tried to enter the committee room during the morning session, shouting: "Legislators are monsters" and "Taiwan will become an AIDS island."
The four were escorted away by police.
The session resumed with legislators taking turns to question Minister of Justice Chiu Tai-san (邱太三) and other ministry officials, with some calling for a special law on same-sex partnerships and for the Civil Code to remain unaltered.
The committee meeting was disrupted again in the afternoon, when a group of anti-gay marriage protesters stormed into the Legislative Yuan through a side gate, with journalists, police and legislators also converging on the gate.
A number of KMT legislators went to talk to the intruders, who then staged a sit-in outside of the legislative chamber despite efforts by police to remove them.
When the session resumed, the party caucuses negotiated, as KMT and PFP members would not back down from their demands that public hearings be held so that more citizens and civic organizations could give their input.
Later, the parties compromised by agreeing to hold two public hearings in the coming weeks.
"It was regrettable that we encountered such opposition and protests from various groups. After cross-party negotiation, the committee decided to compromise by postponing reviews of the proposed amendments to avert conflicts in society," Yu said.
Comments will be moderated. Keep comments relevant to the article. Remarks containing abusive and obscene language, personal attacks of any kind or promotion will be removed and the user banned. Final decision will be at the discretion of the Taipei Times.