Sword fighters show off skills in flash mob display
Sword fighters yesterday congregated at the Chiang Kai-shek Memorial Hall in Taipei to showcase their skills in European swordsmanship, a form of combat dating to the Middle Ages.
Clad in medieval arming jackets and armor, members of two northern Taiwan swordsmanship clubs staged a flash mob-style sword fight at Liberty Square.
Exiel Li, who runs the Vor and Nach Society of Historical European Martial Arts, is a professional swordfighting coach and bladesmith.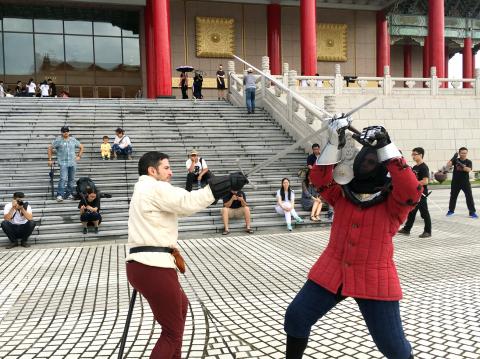 Jesse Quimpo, left, and Jonathan Burke of the Lionheart European Swordsmanship club cross blades in a sword-fighting flash mob at the Chiang Kai-shek Memorial Hall in Taipei yesterday.
Photo: Sean Lin, Taipei Times
Li, a former plastics engineering graduate student at National Taiwan University, said he decided to start a career in swords without finishing his studies.
However, having also studied mechanics at university, Li said he did not allow what he had learned in school to go to waste.
Mechanics are a crucial factor that must be taken into account to properly balance a sword, and his experience with molding has also proven beneficial when making swords, Li said.
Jonathan Burke, cofounder of the Lionheart European Swordsmanship club, said he learned fencing in university, but decided to pursue a historical and more authentic fighting style.
"That was how I found historical European martial arts," Burke said.
Burke said he studied European martial arts by reading translations of manuscripts by medieval swordfighting masters, as well as research by modern academics.
Once practically a lost art, European swordsmanship made a comeback in the 19th century, when academics interested in restoring history studied and translated old manuscripts in museums written in medieval German, he said.
YouTube was also helpful in learning about European swordsmanship, as many skilled swordfighting masters have created YouTube channels to demonstrate techniques and how to use them, Burke said.
As it is a "new sport," historical European martial arts does not have a sizable following in Taiwan, but fencing does, he said, adding that he hopes to raise awareness and reach out to more fencers interested in learning a more historical and practical swordfighting style.
Comments will be moderated. Keep comments relevant to the article. Remarks containing abusive and obscene language, personal attacks of any kind or promotion will be removed and the user banned. Final decision will be at the discretion of the Taipei Times.