Beijing slammed for hurting Taiwanese relations
Minister of Foreign Affairs David Lee (李大維) yesterday blasted Beijing for blocking Taipei from attending several international events, saying such relentless suppression has hurt the feelings of Taiwanese and is far from conducive to mending cross-strait relations.
At a meeting of the legislature's Foreign Affairs and National Defense Committee, Lee said recent developments regarding this year's International Civil Aviation Organization (ICAO) Assembly in Canada and the UN Framework Convention on Climate Change (UNFCCC) suggested that Beijing's suppression of Taipei in the international arena has become more blatant.
Lee then drew attention to China's increasing sway over international organizations due to its occupation of significant positions within the agencies, adding that the international community has noticed Beijing's disregard of global welfare in its efforts to block Taipei's international participation.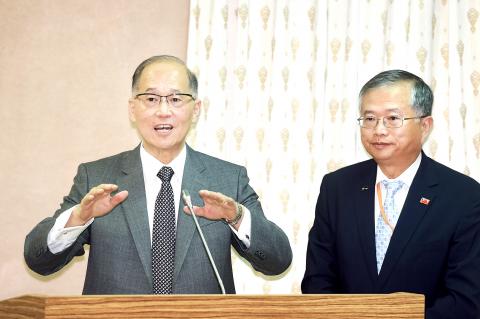 Minister of Foreign Affairs David Lee, left, and Association for East Asian Relations Secretary-General Peter Tsai yesterday take part in a question-and-answer session at the legislature's Foreign and National Defense Committee in Taipei.
Photo: Fang Pin-chao, Taipei Times
"The responsibility to resolve the current cross-strait divergence falls on both sides of the Taiwan Strait. Beijing's behavior is neither beneficial to the development of cross-strait ties, nor do they conform to its claims of promoting peace," Lee said.
Lee said Taiwan's participation in organizations such as the ICAO, UNFCCC, the WHO and the International Criminal Police Organization (Interpol) concerns the welfare of the international community.
"We will not and should not be absent from these organizations," he added.
Lee made the remarks after Taiwan was not invited to this year's ICAO assembly in Montreal or granted access to side events at next month's UN Climate Change Conference (COP22) in Marrakesh, Morocco, reportedly due to Beijing's intervention.
On the sidelines of the legislative session, Lee dismissed a media report that Taiwan might not be able to participate at Interpol's annual summit in Indonesia next month as an observer because the Ministry of Foreign Affairs failed to submit an application before the July meeting of the organization's executive committee.
Lee said the ministry can send in the application next month, adding that it would seek support for Taiwan's bid from other like-minded nations.
Comments will be moderated. Keep comments relevant to the article. Remarks containing abusive and obscene language, personal attacks of any kind or promotion will be removed and the user banned. Final decision will be at the discretion of the Taipei Times.