INTERVIEW: Judicial Yuan nominee defends his record
MARTIAL LAW GHOSTS: Hsieh Wen-ting talks about his work in the investigation of the Lin family murders and a 1982 conviction that led to greater protections for suspects
Public Functionary Disciplinary Sanction Commission Chief Commissioner Hsieh Wen-ting (謝文定) has been in the public spotlight, and under fire, since President Tsai Ing-wen (蔡英文) nominated him on July 11 as president of the Judicial Yuan.
Critics have said that Hsieh was a party to human rights violations during the Chinese Nationalist Party's (KMT) Martial Law era and is therefore an inappropriate candidate to oversee reforms aimed at transitional justice.
In a recent interview with the Liberty Times (sister newspaper of the Taipei Times), Hsieh defended his record and discussed his hopes for the future of the judiciary.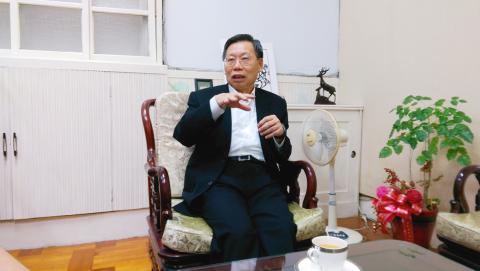 Judicial Yuan nominee Hsieh Wen-ting gestures during an interview with the Liberty Times at his office in Taipei on Saturday.
Photo: Hsiang Cheng-chen, Taipei Times
"Throughout the KMT's authoritarian regime I was conscious of my actions. I absolutely did not abuse my power. I welcome stringent investigation by the public into my past," Hsieh said.
He said that he was not responsible for atrocities committed during the White Terror era, such as the Jhongli Incident (中壢事件) in 1977, the Kaohsiung Incident in 1979, or the Lin family murders in 1980, and only assisted with initial investigations.
The Jhongli Incident refers to a mass demonstration in 1977 in thenTaoyuan County's Jhongli (中壢), against alleged ballot-rigging by the government in the Taoyuan County commissioner election in which Hsu Hsin-liang (許信良) was a candidate.
The Kaohsiung Incident was an anti-government demonstration organized by Formosa Magazine on Dec. 10, 1979, that turned violent when members of the crowd — widely believed to have been agents provocateurs — began attacking police.
The Lin family murders refers to the killing of democracy activist Lin I-hsiung's (林義雄) mother and twin daughters at their home on Feb. 28, 1980, while Lin — who later became a Democratic Progressive Party chairman — was in custody for taking part in the Kaohsiung protest the previous December. The assailants were never caught.
Hsieh was assigned to the murders case by the Taipei District Prosecutors' Office.
At the time, there were reports that Bruce Jacobs, an American academic who was a friend of the Lins and was then a senior lecturer at La Trobe University in Melbourne, Australia, had been seen outside the Lin family home on the day of the murder.
The government accused Jacobs of being involved and he was placed under "police protection" for three months.
"There were calls to keep Mr Jacobs in custody, but I would not detain him — I only requested that he not leave Taiwan for the time being," Hsieh said.
"I was certain he could not be the killer. If he were, he would not have reappeared at the Lin family residence after the incident. In the end, he was found innocent and the case was closed," Hsieh said.
Hsieh said that he was also involved in follow-up investigations after taxi driver Wang Ying-hsien (王迎先) was wrongly accused of Taiwan's first bank robbery in 1982.
Wang confessed to the crime under torture and subsequently committed suicide.
Despite Wang's conviction and suicide, Hsieh said he persisted in investigating the case until another man, Lee Shih-ke (李師科), was arrested for the crime.
The case eventually led to amendments to the Code of Criminal Procedure (刑事訴訟法) to protect the rights of those under investigation.
"I understand that people on the outside tend to perceive a president or vice president of the Judicial Yuan, or a grand justice, who has come from practical experience as being more conservative, while they see one from academia as more idealistic," Hsieh said. "In their view, one with a practical background would simply apply the law directly in judging a case, without leaving room for interpretation."
"However, I am really not that conservative, I am not an 'iron panel.' In the future, after transitional justice laws are enacted, I am willing to be part of a full investigation into the actions of the past government. I am willing to submit to the most stringent investigations," he said.
With regard to the apparent widespread public distrust of the judicial system, Hsieh said that judges face a difficult job and that things within the judiciary are not as bad as those looking at it from the outside think.
Judges have much more personal integrity now than in the past, he said.
When former minister of justice Chen Ding-nan (陳定南) was in office, Hsieh said he advised Chen to set up a watchdog group, which was able to remove some corrupt judges from the system.
Resources to investigate judges should not be concentrated in the hands of a small number of biased individuals, in order to prevent political extremism, he said.
"Those who know the characters of judges best are their peers and area lawyers. For this reason, people should seek to foster good conduct among peers and be brave in calling out those they know to be guilty of misconduct," Hsieh said.
The political independence of trials is fundamental to the quality of the judiciary and to restoring faith in judges among the public, he said.
"If a judge is replaced at the start of a case, this will surely raise suspicion among the public and result in unrest and opposition. Judges and peers should pay close attention to whether there is external pressure or political influence impacting a case," he said.
Those found guilty of influencing a case should be strictly punished, he said.
Hsieh said he supports the participation of the public in trials, but also recognizes potential difficulties with the use of a jury system.
"In the event of a large or controversial case, most people would not be willing to serve as jury members. Conversely, those who are most willing to do jury duty at those times are sometimes labeled as biased, which will cause them to avoid jury duty," he said.
Despite the costs, an assessor or jury system must eventually be put into place, he said.
As for capital punishment, Hsieh said that while he once opposed its abolishment, he has changed his stance.
Chen had hoped as justice minister to eliminate the death penalty within three years, but was unsuccessful, something Hsieh attributed to the Council of Grand Justices' interpretation of the Constitution and opposition from the public.
"The grand justices feel that the decision to keep or discard the death penalty falls within the scope of legislators' capacity as legal decisionmakers. At present, more than 70 percent of the public is in favor of keeping the death penalty. Achieving its abolition will require cooperation by all parties," Hsieh said.
Reform of the judiciary remains incomplete, and some civic organizations are calling on the higher levels of the judicial system to take full responsibility for the system's current shortcomings, he said.
Hsiesh said he would do his best to follow through with all reforms that are formally recommended.
"If I do a bad job, I will step down. I would not just hang onto the position and shirk my responsibilities," he said.
Comments will be moderated. Keep comments relevant to the article. Remarks containing abusive and obscene language, personal attacks of any kind or promotion will be removed and the user banned. Final decision will be at the discretion of the Taipei Times.