Ninty-two-year-old girls' school now co-educational
Over the past weeks, students and alumnae of National Tainan Chia-Chi Girls' Senior High School have been flocking to take photographs at the school's front gate in their old school uniforms as a memento before the sign was changed on Saturday, as the school is being renamed and from today is to be a co-educational school.
The Chia-Chi Girls' Senior High School was a girls' school for 92 years, but is to be converted this academic year and renamed National Tainan Chia-Chi High School.
School administrators said the decision to enroll boys was reached after multiple meetings were called to address the nation's declining birth rates and the falling number of students, and that an application to become co-educational was approved by the Ministry of Education.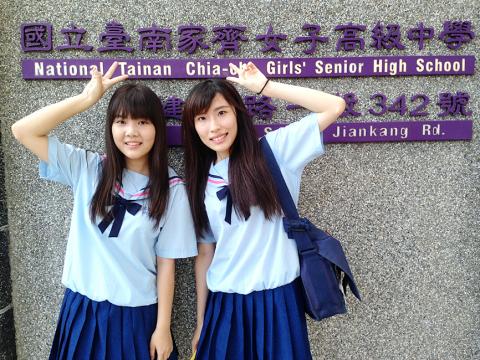 Alumnae of the National Tainan Chia-chi Girls' Senior High School pose in front of the school wearing the school's old uniform on July 22.
Photo: Wang Chieh, Taipei Times
They said National Tainan Second Senior High School was previously a boys' school, but in 2014 converted to a co-educational school, with girls comprising one-third of its new student population that year.
While the school has been the second-most applied-to school for girls in Tainan, the number of students available are not deemed sufficient and the new Chia-Chi Senior High School is to enroll two ban (班, a group of students of the same year sharing a guidance instructor) of boys and might increase its quota for boys in the coming years, the school said.
Following an announcement from the school earlier last month that Saturday had been set as the date of a formal event to replace its sign, messages expressing nostalgia and sorrow were left on social media by students and alumnae, with one saying the school was "a big part in our adolescence, and its passing into history is an occasion for reflection and sadness."
Tainan once had six all-girls schools, including National Tainan Girls' Senior High School, Chang Jung Girls' High School and Chia-Chi Girls' Senior High School, which were venerable institutions from the Japanese colonial era; and three others that were founded later, namely Deguang Catholic Girls' High School, Sheng Kung Catholic Girls' High School and Guang Hua Girls' High School.
However, Chia-Chi Girls' Senior High School is joining the ranks of Tainan's all-girls schools that have transitioned to co-educational schools to broaden a diminishing pool of eligible students, including Deguang Catholic High School, Guang Hua High School and Chang Jung Girls' High School, which opted to retain its old name, although it does not reflect its enrollment policy.
Comments will be moderated. Keep comments relevant to the article. Remarks containing abusive and obscene language, personal attacks of any kind or promotion will be removed and the user banned. Final decision will be at the discretion of the Taipei Times.