Legislators question end of ban on Canadian beef
Legislators yesterday questioned whether the Food and Drug Administration's (FDA) decision to lift a ban on beef imports from Canada was made too abruptly.
Taiwan banned imports of Canadian beef products in February last year following confirmation of cases of mad cow disease in Alberta Province.
Top officials from the Ministry of Health and Welfare and the FDA were yesterday summoned to a meeting of the legislature's Social Welfare and Environmental Hygiene Committee to report on the decision to resume imports.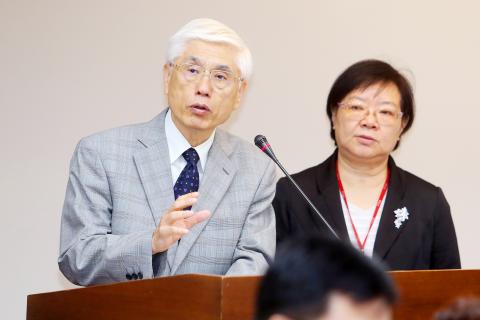 Minister of Health and Welfare Lin Tzou-yien, left, accompanied by Food and Drug Administration Director-General Chiang Yu-mei, yesterday answer questions at a committee meeting at the Legislative Yuan in Taipei.
Photo: CNA
Chinese Nationalist Party (KMT) legislators said that the ministry's move was a "sneak attack," as its announcement was made via a news release on Thursday evening last week, the day before Typhoon Nepartak swept through the nation.
KMT Legislator Arthur Chen (陳宜民) said there is still ambiguity over a Canadian beef farm inspection report, such as where all the cattle from a farm where mad cow disease had been detected were sent.
He asked why the ministry did not wait for a seven-year quarantine period to expire before allowing imports to resume.
Meanwhile, KMT Legislator Alicia Wang (王育敏) asked if the ministry would do another "sneak attack" by suddenly announcing the resumption of food imports from five prefectures in Japan that were likely affected by radioactive fallout from the Fukushima Dai-ichi nuclear power plant disaster.
Minister of Health and Welfare Lin Tzou-yien (林奏延) said the Canadian government had reported in detail about where the cattle from disease-infected farms had been sent, that central government officials went on a beef investigation tour in Canada in November last year and that the Canadian government also provided a final investigation report the following month.
He said the decision to resume imports was made after a series of reviews, investigations and risk evaluations conducted by specialists, and the announcement was originally planned for Friday last week, but was made earlier due to the typhoon's approach.
Six nations temporarily banned Canadian beef imports, and Taiwan is the last one to resume imports, Lin said, adding that Taiwan's ban on food imports from Japan's five prefectures is considered one of the strictest in the world.
Comments will be moderated. Keep comments relevant to the article. Remarks containing abusive and obscene language, personal attacks of any kind or promotion will be removed and the user banned. Final decision will be at the discretion of the Taipei Times.