NPP bill aims to transform Chiang Kai-shek Memorial
GREEN-BLUE CONFLICT: Hsu Yung-ming rejected calls for the hall to be torn down, saying that transitioning the content could help create a consensus for further change
Taipei's Chiang Kai-shek Memorial Hall should be transformed into a research center and museum for all of the nation's presidents, New Power Party (NPP) caucus whip Hsu Yung-ming (徐永明) said yesterday, adding that the memorial's name could be temporarily preserved alongside the statue of former president Chiang Kai-shek (蔣介石).
"Having a memorial dedicated to this one leader isn't appropriate because we don't have any other similar memorials. It would be better to start dedicating the site to all former presidents and transition content to remove all traces of the authoritarian tradition of reverence to Chiang Kai-shek," Hsu said, adding that he had already submitted an amendment to the Organization Act of National Chiang Kai-shek Memorial Management Office (國立中正紀念堂管理處組織法), which the legislature's Procedure Committee is expected to address on Tuesday.
The amendment would expand the memorial's mandate to include the preservation and exhibition of artifacts from all of the nation's former presidents, along with research into the nation's democratization process.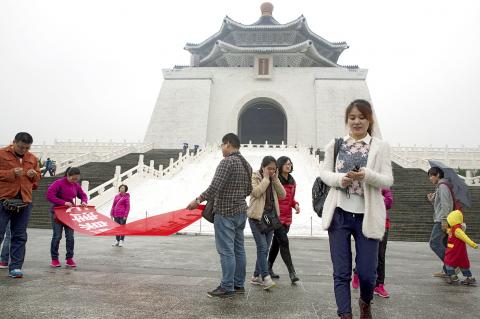 Chinese tourists visit the Chiang Kai-shek Memorial Hall in Taipei on Jan. 15, 2016.
Photo: AP
The hall is charged only with preserving and presenting artifacts related to Chiang, although it is also permitted to hold artistic exhibitions.
"Because the site is conveniently located in Taipei's city center, for it to be devoted only to Chiang is a waste," Hsu said, adding that the site could continue to move in the direction of becoming a general exhibition center, while also serving as a depository for the documents of the nation's past presidents, taking advantage of its location next to the National Central Library.
The imposing memorial complex occupies more than 25 hectares, with a 76m-tall central monument which was the nation's second-tallest building when it was completed in 1980, falling just short of the Grand Hotel in Taipei.
The Academica Historica's existing museum for past presidents could be integrated with the memorial hall if the amendment is passed, Hsu added.
He rejected calls to tear down the memorial hall from some past victims of human rights abuses perpetrated under Chiang's decades-long rule, while adding that transitioning the content could help create consensus for further change.
"Only discussing a name change or whether to keep the memorial would only create pan-blue and pan-green conflict, so we want to focus on content, because there are both pan-blue and pan-green former presidents. We've even considered including presidents of the Republic of China before it moved to Taiwan, so the memorial could continue to count as a presentation of Republic of China history," he said. "As far as I am concerned, as long as our amendment passes, it would even be acceptable for Chiang's huge bronze statue to remain, because it has an educational function."
The administration of former Democratic Progressive Party president Chen Shui-bian (陳水扁) sought to tear down the site's perimeter marble wall and controversially renamed it "National Taiwan Democracy Memorial Hall," only to see the name changed back when former Chinese Nationalist Party (KMT) president Ma Ying-jeou (馬英九) came to power in 2008.
Comments will be moderated. Keep comments relevant to the article. Remarks containing abusive and obscene language, personal attacks of any kind or promotion will be removed and the user banned. Final decision will be at the discretion of the Taipei Times.