Taitung resident aims to put umbrellas at bus stops
Taitung County resident Liu Hung-ju (柳宏儒) is asking for donations of umbrellas to share with tourists, students and older people at bus stops on Provincial Highway No. 11, he told reporters on Tuesday.
Liu, a self-described small-scale farmer from Chenggong Township (成功), said that he was on a bus late last month when it suddenly began to rain.
A fellow passenger, a woman surnamed Wang (王), saw that he did not have an umbrella and lent him hers.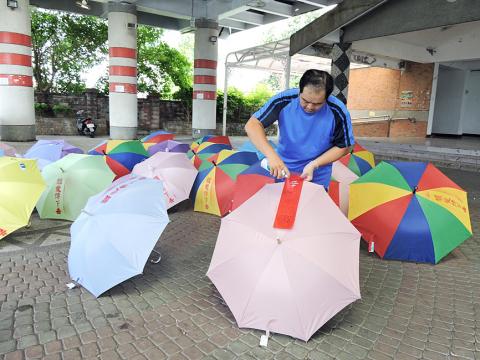 Liu Hung-ju spray paints labels onto umbrellas in Taitung County's Chenggong Township on Tuesday.
Photo: Chang Tsun-wei, Taipei Times
As he alighted from the bus, Liu said that he saw two other passengers at a bus stop sharing a small umbrella, giving him the idea of putting communal umbrellas at bus stops.
On Thursday last week, Liu set up donation stations in his township, and by Tuesday he had received 200 umbrellas from netizens who responded to his request on social media.
His plan is to put 1,000 umbrellas at the 160 bus stops between Chenggong and Taitung and, after reaching that goal, the program is to be expanded north toward Hualien County's Fengbin Township (豐濱), Liu said, adding that he hopes the program might one day put shared umbrellas at every bus stop in the nation.
Liu said that members of the public can send umbrellas to the township's Fude Shrine (福德祠) at 84 Sanmin Rd or Wufu Temple (五福宮) at 4 Gangbian Rd, and that he can be contacted by telephone at 0927-362-633.
Comments will be moderated. Keep comments relevant to the article. Remarks containing abusive and obscene language, personal attacks of any kind or promotion will be removed and the user banned. Final decision will be at the discretion of the Taipei Times.