Bollywood crew films Taiwan travel program
KINDNESS: An Indian photographer suffered a kidney stone attack while working on the shoot and his group was impressed by the medical treatment that he received
A group of Bollywood stars was deeply impressed with beauty of Taiwan during a recent 12-day visit at the invitation of the Tourism Bureau.
Six movie and television actors arrived on June 12 to film a TV travel program promoting Taiwan as a tourist destination for Indians, a senior bureau official said.
The visitors completed their work on Thursday last week, filming in various locations around the nation, including Zihnan Temple (紫南宮); Sun Moon Lake and the Formosan Aboriginal Culture Village in Nantou County; Taroko National Park and Farglory Ocean Park in Hualien County; Bunun Aboriginal communities in Taitung County; the National Museum of Marine Biology and Aquarium and Kenting National Park in Pingtung County; E-DA World in Kaohsiung; Chiang Kai-shek Memorial Hall, Taipei City Mall and the Guang Hua Digital Plaza in Taipei; and Pingxi District (平溪) in New Taipei City.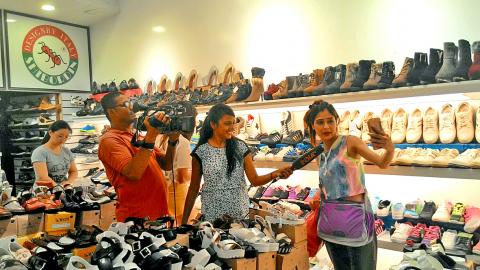 Indian actress Sara Khan takes a selfie during an interview with an Indian reporter at a shoe store on Dayu Street in Hualien on Thursday last week.
Photo: CNA, provided by Taiwan Visitors Association, Singapore Office
The program is scheduled to be released first on YouTube in the middle of this month and will then be aired by the top three TV stations in India, including the TV Today Group, said Hsieh Chang-ming (謝長明), director of the bureau's Singapore office, who organized the visit.
Hsieh said the group was impressed by the hospitality and kindness they received, adding that one of the photographers suffered a kidney stone attack while shooting in Pingtung and was taken to a local clinic for treatment, where the doctor decided to treat him for free after learning of the group's reason for visiting Taiwan.
The photographer was sent to a hospital for further treatment, which cost only NT$2,000, compared with a possible cost of more than NT$5,000 in India, Hsieh said.
The incident left the Bollywood group deeply impressed with the quality of Taiwan's medical services, he added.
It was the second time the bureau invited Indian celebrities to visit Taiwan to promote the nation's tourist attractions.
Fifteen Bollywood stars visited last year to take photographs for calendars featuring Taiwan's tourist attractions, which were published in Mumbai, Hsieh said.
Comments will be moderated. Keep comments relevant to the article. Remarks containing abusive and obscene language, personal attacks of any kind or promotion will be removed and the user banned. Final decision will be at the discretion of the Taipei Times.