President upbeat on ties across the Taiwan Strait
COMMON RESPONSIBILITY: Tsai said she hoped all parties with an interest in maintaining peace in the region, not just Taiwan and China, could boost efforts to build friendly ties
President Tsai Ing-wen (蔡英文) on Wednesday said that if the two sides of the Taiwan Strait can work to accumulate goodwill, it would help improve cross-strait ties and create harmony in the relationship.
In response to reporters' questions on the China Airlines (CAL) charter flight that flew her to Panama over Cuban airspace several days ago, Tsai said that in line with precedent, the airline filed an application for the route and the request was approved by the relevant authorities.
"According to my understanding, it was a move in accordance with precedent. It is not clear to me if China was involved in the case," Tsai said, when asked if the move indicated goodwill on the part of China, since Havana is close to Beijing, and whether it could be considered a breakthrough in cross-strait relations.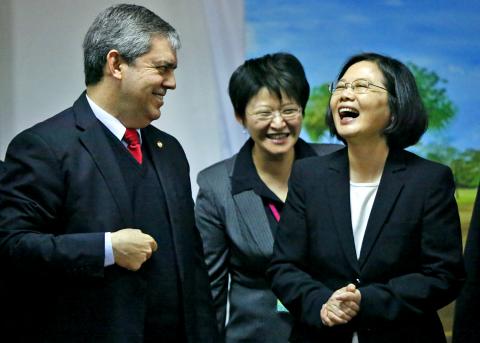 President Tsai Ing-wen, right, laughs as she talks with Paraguayan Minister of Education Enrique Riera during her visit to the General Andres Rodriguez school in Asuncion on Wednesday.
Photo: AP
However, "if China did play a role, that could be seen as a kind of goodwill," said Tsai, speaking from Paraguay on the second and final leg of her first overseas trip since taking office on May 20.
If both sides of the Strait can make efforts to accumulate goodwill, it would be helpful in dealing with cross-strait relations and in creating harmony in bilateral ties, she said in a meeting with Taiwanese reporters traveling with her.
Tsai said she had "demonstrated our maximum goodwill and flexibility" in her May 20 inaugural address, expressing her hope that China can read it more thoroughly and be more flexible in its thinking.
This would allow both sides of the Strait to achieve progress in their relations and maintain stability, which would be "best for everyone," the president added.
In her inaugural address, Tsai said she respects the historical fact of various joint acknowledgments and understandings reached in talks between the two sides since 1992, but did not specifically mention the so-called "1992 consensus."
The "1992 consensus" — a term former Mainland Affairs Council chairman Su Chi (蘇起) admitted that he made up in 2000 — refers to a tacit understanding between the Chinese Nationalist Party (KMT) and the Chinese government that both sides acknowledge there is "one China," with each side having its own interpretation of what "China" means.
Tsai also said that a resumption of communication between the Straits Exchange Foundation and its Chinese counterpart, the Association for Relations Across the Taiwan Straits, is an important element in maintaining the stability of cross-strait relations.
"It is a common responsibility of everyone to maintain peace and stability between the two sides of the Taiwan Strait. Not only we and mainland China need to take the main responsibility, but I hope that all parties in the region that have invested interest in cross-strait peace can offer help and make their maximum efforts," she said.
She said the time has not yet come to consider the appointment of a new chairman of the foundation, despite recent discussions that have linked KMT Legislator Wang Jin-pyng (王金平) and People First Party Chairman James Soong (宋楚瑜) to the post.
Vice Minister of Science and Technology Chen Ter-shing (陳德新) was named as acting chairman of the foundation in mid-May before Tsai took office, and has held the post since then.
Earlier this week, the Ministry of Foreign Affairs confirmed that the flight carrying Tsai and her entourage flew over Cuba on the way to Panama.
Tsai's flight to Panama City from Miami, Florida, on Saturday last week was the first time that a presidential flight of the Republic of China had flown through Cuban airspace, Deputy Minister of Foreign Affairs Wu Chih-chung (吳志中) said.
It is usual international practice for two countries to mutually allow flights over their airspaces.
The ministry had authorized CAL, which planned the flight routes of Tsai's overseas tour, to negotiate with Cuba, Wu said, adding that the ministry did not intervene in the matter.
Tsai was to depart Paraguay yesterday for Los Angeles, where she was to stay overnight before heading home today. She is due to arrive tomorrow.
Comments will be moderated. Keep comments relevant to the article. Remarks containing abusive and obscene language, personal attacks of any kind or promotion will be removed and the user banned. Final decision will be at the discretion of the Taipei Times.