Hengliou River gets rock-ramp fishways to bypass obstacles
Fishways built in Taichung's Hengliou River (橫流溪), including the first rock-ramp fishway in the nation completed on March 15, are to help protect migratory fish species by allowing them to bypass barriers along the rivers in the Dasyueshan (大雪山) area, according to officials from the Forestry Bureau's Dongshih Forest District Office.
The five fishways would help fish bypass anti-effluvia barriers built on the river.
The government has undertaken improvement projects along the Hengliou River over the past decade to address the high volumes of effluvia, caused by the 921 Earthquake in 1991 as buildings collapsed and mudslides occurred along the river's banks, the officials said.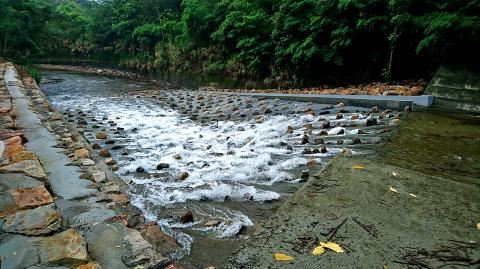 Taiwan's first rock-ramp fishway, constructed on the Hengliou River in Taichung, is pictured in an undated photograph.
Photo courtesy of the Forestry Bureau
While the projects successfully restored the river's water quality, they also changed its geography and created barriers for migratory fish, including several species endemic to Taiwan, such as Formosania lacustris and Rhinogobius candidianus, necessitating the construction of fishways, the office said.
Rock ramps imitate the characteristics of natural river channels more closely than other fishway designs, can accommodate a large variety of fish and are more easily recognized by fish as a navigable channel, the office said, adding that splashes on the rock increase the the river's oxygen content and attract fish.
It added that its observers have found herons flocking near the rock ramp, suggesting that local fish are using the passage.
The cost of constructing rock ramps is about 50 percent higher than other designs due to the requirement for curvature on cross sections both along and across the channel's length, project designer Chang Che-ming (張哲銘) said.
However, the 5.2m height difference in that section of the river could not be overcome by conventional fishways within reasonable length limits, making the rock ramp a cheaper option, Chang said.
The rock ramp offers other advantages, such limiting disruptions to the river and creating zones of slow-running water where fish swimming upstream can rest, Chang said, adding that the project's carbon footprint was minimized by taking construction materials from the
environment near the river.
Comments will be moderated. Keep comments relevant to the article. Remarks containing abusive and obscene language, personal attacks of any kind or promotion will be removed and the user banned. Final decision will be at the discretion of the Taipei Times.