Asteroid between Mars, Saturn named Pingtung
The International Astronomic Union (IAU) last month officially named a small asteroid Pingtung, placing the southern county among the stars, the Pingtung County Government and National Central University announced on Wednesday.
The asteroid, which is in a belt between Mars and Saturn, was discovered by the university's Lulin Observatory in 2006.
The diameter of the asteroid is between 3km and 6km, and a complete orbit around the sun takes it 5.55 years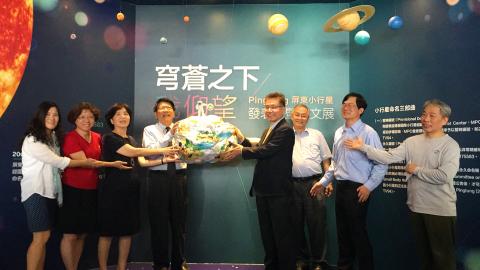 Pingtung County Commissioner Pan Meng-an, fourth left, helps to hold up a model of an asteroid named after the county in Pingtung County on Wednesday.
Photo: Luo Hsin-chen, Taipei Times
The observatory said the Pingtung asteroid's distance from the sun at its closest point is 4.3 billion kilometers, while its furthest point from the sun is approximately 5.1 billion kilometers.
It is the 13th asteroid discovered by the observatory named after a Taiwanese county or city, the observatory said.
National Central University professor Ip Wing-huen (葉永烜) said asteroids are the only celestial objects that can be named by their discoverer and receive global recognition, adding that the naming process is subject to a review by the IAU's small celestial objects naming committee.
Once the name has been authorized and announced by the committee, the name is used to refer to the asteroid, Ip said, adding that the asteroid was named Pingtung because it is the home county of the university's graduate institute of astronomy president Chen Wen-ping (陳文屏).
Pingtung County Commissioner Pan Men-an (潘孟安) said that Maobitou Park (貓鼻頭公園) in Hengchun Township (恆春) is the best place in the nation to observe the Southern Cross constellation, adding that astronomy enthusiasts in the county are excited now that there is an asteroid bearing the county's name.
Meanwhile, Pingtung City Tangjung Elementary School's star-seeking team has been selected by the International Astronomical Search Collaboration to help analyze astronomical footage to find planets.
It is the only team in East Asia to have been chosen to help with the project.
To commemorate the naming of the asteroid, a small astronomical exhibition is being held at Pingtung County Hall until May 18 in the hope of getting more children interested in astronomy.
Comments will be moderated. Keep comments relevant to the article. Remarks containing abusive and obscene language, personal attacks of any kind or promotion will be removed and the user banned. Final decision will be at the discretion of the Taipei Times.