US pork decision lies with leaders: AIT
OPEN DOORS: Joining a US free-trade agreement proposed for the trans-Pacific region would require Taiwan to make concessions and convince other nations to let it join: AIT
American Institute in Taiwan (AIT) Director Kin Moy yesterday said that the decision to open the Taiwanese market and allow the import of US pork containing ractopamine residue should be made by the nation's leaders in consultation with the public, but added that adjustments are necessary to build trade ties with the international community.
Moy made the remarks at a question-and-answer session after he gave a speech, titled "US-Taiwan Relations: Our Shared Future," at the National Chengchi University, the first time he had visited a university in Taipei to interact with students.
The speech came at a time of growing public discontent over president-elect Tsai Ing-wen's (蔡英文) reported plan to open the nation to US pork containing ractopamine residue, an additive that enhances leanness, which has been regarded as a major hurdle to Taiwan's bid to join the Trans-Pacific Partnership (TPP).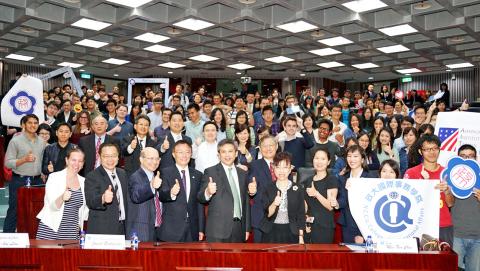 People pose for a photograph yesterday at Taipei's National Chengchi University where American Institute in Taiwan Director Kin Moy gave a speech.
Photo: AIT
"There has been a lot of media attention on this issue, but our position has not really changed at all. You have to put this into a larger context: overall trade," Moy said in response to a student's question regarding his opinion on the import of ractopamine-laced US pork.
While there are benefits in forging trade relationships with the international community, there are going to be adjustments, because the US wants all economies to open up their systems, he said.
Nevertheless, the decision would have to be made by the leaders of Taiwan in consultation with the public, Moy said, adding that it is not his role to tell people what to do and that all he can do is present information in a factual and scientific way.
"Just know that these are the practices around the world. If you want to be part of a larger integration in trade — and I hope that Taiwan wants to be a part of that — you do have to make some decisions," he said.
As to Taiwan's chances of entering the TPP, Moy said Washington welcomes Taipei's interest in the trade pact, but it is up to the nation to make a decision on whether it can meet the criteria in the agreement.
It would also have to persuade the 11 member nations that it has the desire to join, Moy added.
Asked about the issues that the US expects Tsai to mention in her inaugural speech, Moy said he expects her to reassure the public of her determination to fulfill her campaign pledges, such as reinvigorating the nation's economy, boosting employment and addressing the pension conundrum.
"Certainly, there are plenty of issues to choose from. She would have to determine those based on how she feels," Moy said, adding that he also anticipates Tsai to be gracious in her speech in terms of the moment in history.
Moy was also quizzed by students on how the US defines the so-called "1992 consensus," to which he said Washington does not have a definition, because it is not a party to the consensus.
However, he said that the "consensus" has provided a basis for a fruitful dialogue across the Taiwan Strait over the past eight years, adding: "It is really up to Taiwan to go forward on this kind of issue and on the speech on May 20."
The "1992 consensus," a term former Mainland Affairs Council chairman Su Chi (蘇起) admitted making up in 2000, refers to a tacit understanding between the Chinese Nationalist Party (KMT) and the Chinese government that both sides of the Strait acknowledge there is "one China," with each side having its own interpretation of what "China" means.
There has been mounting pressure from Beijing for Tsai to accept the "1992 consensus" or compromise on the issue in her inauguration speech on May 20.
Comments will be moderated. Keep comments relevant to the article. Remarks containing abusive and obscene language, personal attacks of any kind or promotion will be removed and the user banned. Final decision will be at the discretion of the Taipei Times.