NARL unveils forensic camera
ULTRAVIOLET: The device allows crime scenes to be investigated remotely, with investigators able to receive data and direct operations via computers
Forensic scientist Henry Lee (李昌鈺) and National Applied Research Laboratories (NARL) on Tuesday unveiled a forensic camera that can detect injuries and evidence beneath the skin that are invisible to the naked eye.
One of the most difficult aspects of collecting evidence at crime scenes is detecting invisible injuries, as it takes time for a bruise to develop, and the window between the onset of a violent incident and the detection of noticeable injuries is a period when forensic medical examination is inadequate.
NARL developed imaging technology able to detect ruptured blood vessels and blood extravasation beneath the skin by measuring blood oxygen levels with a blue and ultraviolet dual-light device, NARL researcher Mark Lin (林宇軒) said.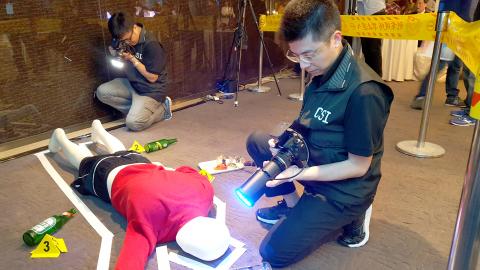 Scientists demonstrate a newly developed forensic camera at a news conference in Taipei on Tuesday.
Photo: Chen Wei-han, Taipei Times
"Blood contains hemoglobin and bilirubin, which turn fluorescent when exposed to blue and ultraviolet lights. The light emitted by hemoglobin and bilirubin exhibits different colors depending on blood-oxygen levels," Lin said.
"Lower blood oxygenation occurs when blood vessels are ruptured and blood congeals, so forensic scientists can determine the scope and severity of injuries beneath the skin with images taken by the device," Lin said.
"Traditionally, investigators rely on experience and the colors of a bruise — if there is one — to determine when an injury was inflicted, but now they can estimate the time of injury with more precision by measuring blood oxygen levels," Lee said.
The device can be used to help victims of domestic violence and sexual assaults in which injuries might be less apparent, Lee said.
The forensic camera can also take pictures of fingerprints and body fluids, and the data can then be instantly transmitted to a crime laboratory anywhere in the world, enabling data-matching to be undertaken and senior investigators to direct crime-scene investigations remotely.
Lee demonstrated a remote crime-scene investigation with the forensic camera, as he instructed two rookie investigators on what evidence to collect and where to collect it via a computer screen, with images of the scene and fingerprints displayed in real time.
That could help understaffed police units to process a crime scene in a professional manner, he said.
"Such technology can take the crime lab to the crime scene, instead of the other way around, as we are used to. The technology can also be used to fight terrorism on a global level, as images taken at a certain location can be immediately analyzed by experts around the world," Lee said.
Comments will be moderated. Keep comments relevant to the article. Remarks containing abusive and obscene language, personal attacks of any kind or promotion will be removed and the user banned. Final decision will be at the discretion of the Taipei Times.