Ma, Tsai have 'relaxed' meeting
THE REAL WORLD: Tsai told Ma that 'young people need to focus on skills that allow them to integrate into society, rather than on passing exams,' the DPP said
A meeting between President Ma Ying-jeou (馬英九) and president-elect Tsai Ing-wen (蔡英文) touched upon various topics, including pensions, diplomacy, employment, energy and the South China Sea, but cross-strait affairs were not addressed because of time constraints, the Democratic Progressive Party (DPP) said.
Ma and Tsai's meeting was held in a relaxed atmosphere, DPP Secretary-General Joseph Wu (吳釗燮) said.
Tsai said that she had previously only met Ma at public occasions and she was glad to have a deeper discussion over some major issues, Wu added.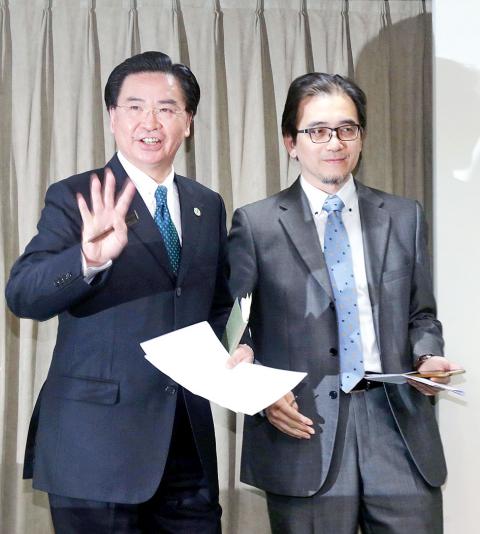 Democratic Progressive Party (DPP) Secretary-General Joseph Wu, left, and DPP Deputy Secretary-General Jason Liu yesterday jointly hold a press conference at DPP headquarters in Taipei following a meeting between President Ma Ying-jeou and president-elect Tsai Ing-wen at the Taipei Guest House.
Photo: CNA
On the issue of pensions, Tsai told Ma she considered the problem one of the nation's major challenges and stressed that a new system based on the principle of fairness must be designed that would grant protection to all the retired people in the nation, Wu said.
Ma told Tsai he hoped the new government would follow the reform proposals that his administration had formulated, to which Tsai replied that pension reform does require cross-caucus discussion and that is why vice-president-designate Chen Chien-jen (陳建仁) visited Examination Yuan President Wu Jin-lin (伍錦霖) and former Examination Yuan president John Kuan (關中) for an exchange of ideas last week, DPP Deputy Secretary-General Jason Liu (劉建忻) said.
On diplomacy, Tsai thanked Ma for urging foreign envoys based in Taiwan to continue to support Tsai's administration following the May 20 handover, adding that her administration would continue the current government's diplomatic initiatives if they are worth pursuing.
"Diplomacy is a challenge we face together [as a nation], not an opportunity for political point-scoring between the pan-blue and pan-green camps. It has strong implications for the development of the nation. We would want to continue to expand our foreign relations, be they formal or informal, and diversify Taiwan's ties with other nations," Tsai was quoted by Wu as saying.
On employment, Ma referred to his policies on vocational education and industry-school cooperative educational projects, while Tsai said the country's low birthrate and aging population would lead to a shortage in labor that would would be a great challenge, and that effective utilization of the labor force is significantly restricted by young people's late start to their working lives, which is a structural factor that must be improved, Wu said.
"Tsai said that young people need to focus on skills that allow them to integrate into society, rather than on passing exams and gaining entrance into prestigious schools. The government needs to provide more opportunities for young people to experience life outside of school," Liu said.
On nuclear energy, the president-elect said the two major problems are the disposal of radioactive waste and earthquakes, Wu said.
"Tsai stressed that there would be more options in the future when it comes to energy, and that electricity generation would have to be more diversified and electricity usage more efficient. The structural transformation of industries would also need to be put into consideration when drawing up new energy policies," Wu said.
Ma mentioned the South China Sea issue toward the end of the meeting, and explained why he visited Itu Aba Island (Taiping Island, 太平島) and sent the minister of the interior and the minister of foreign affairs there, and invited foreign media to visit, Wu said.
Tsai said that the remarks of pan-green academics should not be interpreted as the DPP's stance on the South China Sea, adding that the government's existing documents concerning the region would be carefully studied, Wu said.
At a post-meeting news conference organized by the Presidential Office, Presidential Office Secretary-General Tseng Yung-chuan (曾永權) said cross-strait issues were barely touched upon during the Ma-Tsai meeting because of time constraints.
"Ma only said to Tsai nearing the end of their meeting that his government's stance on and principles of handling cross-strait ties have been made pretty clear. They did not go into any details on the issue," Tseng said.
Tseng also denied that the so-called "1992 consensus," the stalled cross-strait service trade agreement, or the proposed cross-strait trade in goods accord were brought up during the meeting.
Ma and Beijing have repeatedly urged Tsai to accept the "1992 consensus," which refers to a tacit understanding between the KMT and the Chinese government that both sides acknowledge there is "one China," with each side having its own interpretation of what "China" means.
Asked whether it was agreed beforehand that cross-strait issues be left out of the meeting, Tseng said representatives from both sides only reached a consensus on the format of the talks during a preparatory meeting on Monday and did not discuss what topics should be on the agenda.
Presidential Office Deputy Secretary-General Hsiao Hsu-tsen (蕭旭岑) also downplayed questions as to whether Ma tried to insinuate a link between Taiwan's stable ties with its diplomatic allies and continued cross-strait engagement.
"They did talk about the situation regarding the nation's diplomatic allies, but cannot reveal the content of their conversation because it involves classified information," Hsiao said.
Comments will be moderated. Keep comments relevant to the article. Remarks containing abusive and obscene language, personal attacks of any kind or promotion will be removed and the user banned. Final decision will be at the discretion of the Taipei Times.