Prosecutors seek retrial of man in 2002 police killing
DEATH ROW: New evidence indicates that Cheng Hsing-tse might have been wrongfully convicted of killing an officer in Taichung in January 2002, a prosecutor said
Families and legal rights groups yesterday welcomed a move by prosecutors to apply for a retrial of the case of Cheng Hsing-tse (鄭性澤), who was given sentenced to death for killing a police officer in 2002, as new evidence appeared to cast doubt on his conviction.
Cheng's parents urged the judiciary to release the death-row inmate immediately, saying: "Our son did not commit the crime. He should have been found innocent in the original trial."
Control Yuan members Wang Mei-yu (王美玉) and Chang Kuei-mei (仉桂美) yesterday spoke out in support of a retrial, saying: "This case has become an important signpost of our nation's advancement in human rights. The justice system must uphold its obligation of conducting a fair, equitable and open process to examine if there were flaws and defects, and to see if the judicial procedures had been followed properly."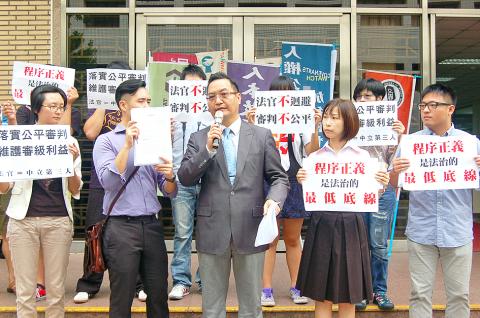 Human rights lawyer Lo Ping-cheng, center, speaks at a press conference with human rights groups in Taipei on Oct .1 last year, calling for a retrial of the case of Cheng Hsing-tse.
Photo: Yang Kuo-wen, Taipei Times
Prosecutors at the Taichung Branch of the Taiwan High Prosecutors' Office on Monday announced that they would apply for a retrial, citing the release of a forensic examination report by National Taiwan University Hospital that apparently contradicted evidence used to convict Cheng in the original trials, which culminated in the 2006 Supreme Court ruling to uphold the guilty verdict with the death sentence.
According to yesterday's statement issued by Cheng's legal team, this was the first time in the nation's history prosecutors have sought a retrial for a case in which the Supreme Court's final ruling had upheld a death sentence.
The case had gone through seven trials, and after the 2006 Supreme Court guilty ruling, Cheng has been on death row while his case went through several extraordinary appeal, retrial and denial of appeal procedures.
Cheng was convicted of killing police officer Su Hsien-pi (蘇憲丕) during an exchange of gunfire at a Taichung KTV in January 2002. Police were called to the KTV after a drunk patron, Lo Wu-hsiung (羅武雄), fired two shots from a pistol in one of the rooms, hitting the ceiling and a liquor bottle.
Gunshots rang out when police officers entered the room to investigate, and Su and Lo were killed, while Cheng and several other people were wounded.
The case was put in the spotlight by human rights groups, who had long maintained that the original investigation was flawed and had used questionable evidence to have Cheng wrongly convicted, as his family and supporters campaigned and made numerous appeals for a retrial.
In citing new materials and the National Taiwan University Hospital report, which included re-examining the autopsy result, Taichung prosecutor Wu Tsui-fang (吳萃芳) said a retrial was needed because new evidence indicated Cheng might not be guilty, and that Lo might have fired the shot that killed Su.
Wu also said that a reassessment of evidence on the positions of the men involved, the angle and trajectory of the gunshots and an analysis of gunpowder residue left on the weapon all indicated possible flaws in Cheng's conviction.
Supporters and legal rights groups said they demand justice for the 49-year-old Cheng, who has been in jail for the past 14 years, "so this innocent man can clear his name and be set free."
Comments will be moderated. Keep comments relevant to the article. Remarks containing abusive and obscene language, personal attacks of any kind or promotion will be removed and the user banned. Final decision will be at the discretion of the Taipei Times.