As PM2.5 rises, plant cuts output
HEALTH HAZARD: Authorities requested that Taipower cut output at the Taichung Power Plant yesterday morning when the index for PM2.5 hit 'extremely high' levels
Taiwan Power Co (Taipower) yesterday lowered output at the Taichung Power Plant in response to increased air pollution in central and southern Taiwan, while environmentalists said the company should shift to cleaner energy.
The power plant — the largest coal-fired plant in the world — reduced its power generation by about 5 percent from 11:50am to 6pm in an attempt to reduce its carbon emissions, Taipower said, adding that the plant was producing about 820,000 kilowatts (kW) less than its average 5.5 million kW per day, although one generator was also shut down for annual maintenance.
The output reduction was in accordance with an agreement the state-run company reached with the Taichung City Government. The agreement states that the plant should operate at a reduced capacity when concentrations of PM2.5 — fine particulate matter smaller than 2.5 micrometers — reach 71 micrograms per cubic meter at most of the city's 11 monitoring stations, according to Taipower.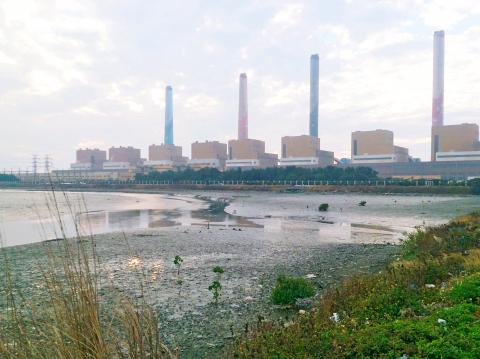 Taichung Power Plant stands beneath a cloudy sky yesterday, as Taiwan Power Co temporarily cut the plant's output to help reduce air pollution.
Photo: Huang Chung-shan, Taipei Times
The city government requested that Taipower lower output at the Taichung Power Plant yesterday morning when the index for PM2.5 hit "extremely high" levels. The index fell to a "medium" level in the afternoon.
Poor air quality is expected to persist in western parts of Taiwan and the outlying island of Kinmen until tomorrow, the Environmental Protection Administration said.
Taiwan Healthy Air Action Alliance convener Yeh Guang-peng (葉光芃) said that the company should cut power generation in winter and during holidays when electricity demand is low.
"Taipower should reduce output at its coal-fired plants when PM2.5 levels reach 'medium' levels or three days before predicted peak pollution days," Yeh said, adding that more active measures should be in place to reduce air pollution when the PM2.5 index reaches excessive levels.
"The company should raise output of natural gas-powered plants and shift to cleaner energy, he said. "More than 70 percent of people are willing to pay higher electricity prices if that would be better for health and the environment [according to a poll by the Chinese-language Global Views Monthly last month]. Taipower should respond to the public's expectation."
Only 30 percent of the nation's gas-powered plants are active in winter, and pollution would be sufficiently reduced if all those plants could run at full capacity all year round, he added.
Comments will be moderated. Keep comments relevant to the article. Remarks containing abusive and obscene language, personal attacks of any kind or promotion will be removed and the user banned. Final decision will be at the discretion of the Taipei Times.