FEATURE: CPBL starts the year on a high
SYSTEM TEST: Lin Chih-sheng and Cheng Ta-hung last month became the first two players in the league's history to transfer to another team via the free-agent system
Taiwan's professional baseball began the year on a high note with blockbuster signings of several free agents and star players receiving big contracts, which is seen as healthy development for improving the game and bolstering salary levels for most players.
Most sports commentators and fans said last season was a successful one for the Chinese Professional Baseball League (CPBL), topped by an exciting Taiwan Series that went into a decisive seventh game before the Lamigo Monkeys prevailed over the Brothers Baseball Club.
With ballparks either full or near capacity for the Taiwan Series championship games, both the Lamigo Monkeys and the Brothers enjoyed good revenue on top of the steady rise in fan support and ticket sales during the regular season.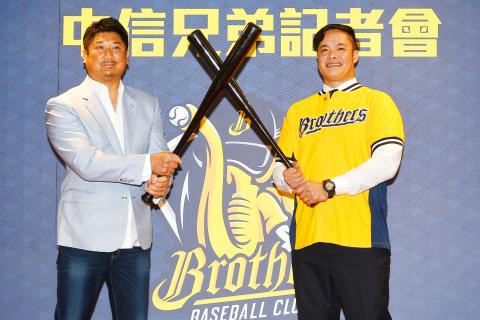 Brothers chairman Jeffrey Koo Jr, left, joins Lin Chih-sheng, also known as Ngayaw Ake, after Lin signed a NT$36 million contract with the baseball club, on Jan. 4 at a news conference in Taipei.
Photo: Chang Chia-ming, Taipei Times
The CPBL also got unexpected publicity from US and other foreign media when Pat Misch, a former player with the San Francisco Giants and New York Mets, faced down 27 batters to pitch a no-hitter and lead Lamigo to an 11-0 blowout of the Brothers in the series finale.
However, there were some dark clouds hovering over the league after the championship, with two of the Monkeys' biggest stars coming to the end of their contracts: elder statesman Chen Chin-feng (陳金鋒) and captain and league Most Valuable Player Lin Chih-sheng (林智勝, also known as Ngayaw Ake).
Other teams faced similar situations, with 2015 league RBI king Lin Yi-chuan (林益全) and star catcher Cheng Ta-hung (鄭達鴻) telling the EDA Rhinos that they wanted to test their market value, while former home run king Chang Tai-shan's (張泰山) second multiple-year contract with the Uni-President Lions expired.
Chen, Lin Chih-sheng and Cheng decided to opt for the league's free agency system, which only began in 2009 and required players to complete nine full seasons with the league before they became eligible to use it.
After declaring their free-agent status, Lin Chih-sheng and Cheng became the first players in the league's history to transfer to another team via the free-agent system.
Dispelling rumors that he might join a professional team in South Korea, Lin Chih-sheng on Jan. 4 signed a three-year, NT$36 million (US$1.08 million) contract with the Brothers, with yearly performance incentives of NT$3 million.
"I wanted to remain in Taiwan, so I can contribute to the development of the game, to help youngsters at the grassroots level and also improve the professional baseball environment for all players," he said.
On Jan. 11, the Brothers signed Cheng to a three-year, NT$20 million contract.
"It was very important for me and for the league to test the free-agent system. This could be the only opportunity in my career to become a free agent and transfer to another club. I hope more players can also have the chance to do so. It is a chance for us to make a choice to stay or go for a new challenge at another team, and it is also a chance for the market to assess a player's true worth," Cheng said.
Backed by the deep pockets of their owner, Chinatrust Group's CTBC Financial Holdings Co, the Brothers came out on top in the league's first free-agent battle, and the club is now seen as the favorite to challenge for this year's championship trophy.
However, under the league's transfer rules, the Brothers had to pay a total of NT$11.70 million in compensation for the transfers — NT$6.45 million to the Lamigo Monkeys and NT$5.25 million to the EDA Rhinos.
Chen decided to stay true to the Monkeys and agreed to a one-year extension of his contract. He said this would be his last season, as he plans to retire at the end.
Things did not turn out so well for 20-year veteran Chang. The Uni-President Lions elected not to renew his contract, citing age (39) and a need to give younger players a chance on the starting lineup. The Lions did offer him a coaching job, but Chang turned it down.
Determined to continue playing, Chang signed a contract with Japan's Tokushima Indigo Socks, one of the four clubs in the Shikoku Island League, an independent circuit seen equivalent to AAA level, second to Japan's Nippon Professional Baseball.
Pundits said the free-agent system worked well and bodes well for the healthy development of professional baseball in the nation, giving leading players a chance to test their market value, without being sold or discarded by owners who used to see players as property who had to remain at one club their whole careers.
The transfers have also helped boost the salaries of players who are consistent and perform well, as shown by 2015 RBI king Lin Yi-chuan's experience.
The EDA Rhinos recently signed him to a one-year contract with a monthly salary of NT$650,000, NT$100,000 more per month than he earned last season.
The Uni-President Lions signed veteran right-handed pitcher Pan Wei-lun (潘威倫) to a two-year contract at NT$500,000 per month, up by NT$50,000 per month from last season's earnings.
Comments will be moderated. Keep comments relevant to the article. Remarks containing abusive and obscene language, personal attacks of any kind or promotion will be removed and the user banned. Final decision will be at the discretion of the Taipei Times.