Taiping Island sees its first civilian register residency
FIRST OF MANY? Chu Mei-ling's change of residence to the island would boost the morale of the staff on the island, coast guard officials said
A nurse stationed on Itu Aba Island (Taiping Island, 太平島) on Thursday became the first civilian to register their residency on the island, with two of her colleagues planning to follow suit.
Itu Aba is the largest natural island in the Spratly Islands (南沙群島), to which Taiwan, the Philippines, the People's Republic of China and Vietnam have overlapping claims.
The nurse, Chu Mei-ling (初美玲), registered her residence on Itu Aba in accordance with the National Health Administration's integrated delivery system project, first enacted in 1999, that helps provide medical relief to Taiwanese in remote areas or islands.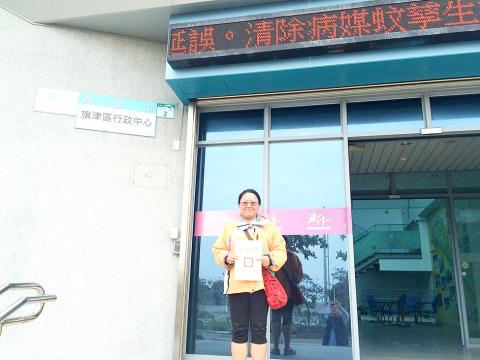 Chu Mei-ling, the first person to register her residence on Itu Aba Island (Taiping Island) in the Spratly Islands, displays her household registration certificate yesterday in Kaohsiung.
Photo: Huang Chien-hua, Taipei Times
The project's primary goal is to provide medical services to residents who are paying National Health Insurance dues, but are comparatively deprived of available medical resources because of the remoteness of their locations.
The three medical staff assigned to the island are Chu, Pan Man-chi (潘曼琪) and Lin Fang-tsu (林芳慈), the Coast Guard Administration's southern coast patrol office said.
Both Pan and Lin are on vacation in Taiwan proper, but they plan to register their residencies on the island when they return to work, the office said.
Since the Coast Guard Administration took over the defense of the island in 2000, it has adhered to the spirit of keeping peace in the South China Sea, the office said, adding that it has also made efforts to ensure the island is peaceful, ecologically sustainable and has low carbon emissions.
Chu's change of residence to the island would boost the morale of the staff on the island and show that Taiwanese support the nation's claims of sovereignty in the South China Sea, the office said.
Chu's relocation of residence was praised by Ma when he visited the island on Thursday, the office said.
Comments will be moderated. Keep comments relevant to the article. Remarks containing abusive and obscene language, personal attacks of any kind or promotion will be removed and the user banned. Final decision will be at the discretion of the Taipei Times.