ELECTIONS: Tsai repeats call for her followers not to split votes
Democratic Progressive Party (DPP) presidential candidate Tsai Ing-wen (蔡英文) yesterday canvassed the streets of Nantou, Changhua and Taichung to solicit support in difficult constituencies, calling on voters to concentrate all their votes for the party and its candidates.
On the first leg of her campaign tour yesterday in Nantou's Jhong Sing New Village (中興新村) to stump for DPP legislative candidates Tsai Huang-liang (蔡煌瑯) and Chang Kuo-hsin (張國鑫), Tsai Ing-wen was greeted by a crowd of overseas Taiwanese and business leaders, who held placards showing where they came from and expressed support for Tsai Ing-wen and the DPP's candidates.
"Nantou is Taiwan's heartland, and the local constituencies are a decisive battlefield and a key election indicator. It bodes well for the election if Nantou shows good results," Tsai Ing-wen said.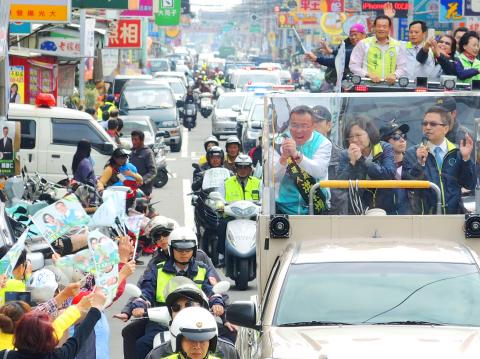 Democratic Progressive Party (DPP) presidential candidate Tsai Ing-wen, on van second right, campaigns in Changhua County yesterday, endorsing DPP legislative candidate for Changhua County Hung Tsung-yi, on van, left.
Photo: CNA
Dubbing a contingent of overseas supporters the "the Ing overseas clique," she urged overseas Taiwanese to return to vote in the presidential and legislative elections on Saturday to be part of the nation's progress.
Describing the DPP as "the No. 1 brand of reform," she called on voters to cast their legislator-at-large votes for the party, saying the DPP's lineup of candidates is a good representation of a progressive force that deserves a mandate.
She also asked DPP supporters not to split their votes with other parties, but instead concentrate their votes for the DPP and its candidates to achieve a DPP majority in the legislature.
In response to reporters' questions about what difference it would make to Taiwan's male-dominated political sphere if she is elected president, Tsai Ing-wen said, in English: "At least we get to prove this a place where we address and then achieve gender equality."
On her relations with China and dealing with Chinese President Xi Jinping (習近平), she said: "It is a matter of communication, communication and communication."
Her motorcade procession later toured the streets of downtown Nantou and Changhua's Shim (溪湖) and Yanpu (鹽埔) townships, which were lined with supporters waving flags and setting off firecrackers.
The procession was later greeted by a colder crowd at the embattled Shalu District (沙鹿) in Taichung, where DPP legislative candidate Chen Shih-kai (陳世凱) is pitted against KMT Legislator Yen Kuan-hen (顏寬恆), who is seeking re-election, so the motorcade made a detour to the district to improve Chen's chance of election en route to Changhau's Yuanlin Township (員林), where a nighttime rally was held.
Thousands of DPP supporters braved the rain to attend the rally, the focus of which was seeking a sweeping majority to ensure the first power transition in the legislature and electing the first female president.
Tainan Mayor William Lai (賴清德) encouraged voters to cast their votes regardless of the weather to ensure that Tsai Ing-wen becomes the president elected with the highest number of votes in Taiwan's history.
Saying she had some of her happiest moments when she saw the DPP overturn the KMT administration in Changhua in the nine-in-one elections in 2014, Tsai Ing-wen said the last mile to bring about the complete transition of power is a few days away, while reiterating that voters should concentrate their votes on the DPP.
She promised a DPP administration would treat cities and counties ruled by the KMT and by the DPP equally, including New Taipei City, where KMT presidential candidate Eric Chu (朱立倫) serves as mayor.
Comments will be moderated. Keep comments relevant to the article. Remarks containing abusive and obscene language, personal attacks of any kind or promotion will be removed and the user banned. Final decision will be at the discretion of the Taipei Times.