Ma support moves to Tsai: poll
CHINA'S SHADOW: Separate surveys by two think tanks showed increasing concern over Chinese companies acquiring shares in Taiwan's high-tech and media industries
More than a quarter of the voters who backed President Ma Ying-jeou (馬英九) in 2012 would vote for Democratic Progressive Party (DPP) presidential candidate Tsai Ing-wen (蔡英文) next month, a survey taken after the presidential debate on Sunday showed.
Taiwan Thinktank yesterday released the results of the poll conducted on Sunday and Monday, which showed that 45.9 percent said Tsai did better than her two rivals in the debate, while 22.1 percent said that Chinese Nationalist Party (KMT) presidential candidate Eric Chu (朱立倫) was the best among the three and 19.9 percent rooted for People First Party presidential candidate James Soong (宋楚瑜).
The survey showed that 31.7 percent said they would choose to support a candidate based on their performance in a debate, while 67.5 percent said they would not. The numbers indicate that while debates — with another one scheduled on Saturday — might not have a major effect on a candidate's popularity, they could solidify voters' preferences, the think tank said.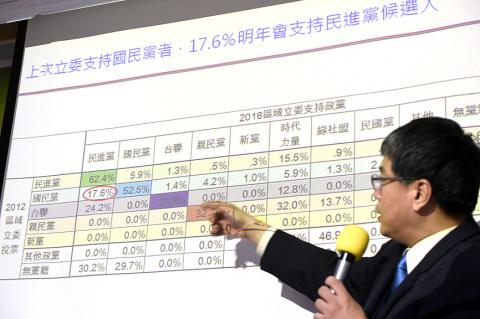 A Taiwan Thinktank member in Taipei yesterday points to a graphic explaining the results of its latest opinion poll.
Photo: George Tsorng, Taipei Times
About 90 percent of voters aged 20 to 29 said their preference would not be affected by the debates, Taiwan Thinktank executive director Lai I-chung (賴怡忠) said.
"It is those over the age of 70 who are more likely to be influenced by candidates' performance in a debate, according to the poll," he said.
A total of 67.2 percent of respondents said they would definitely vote on Jan. 16.
Taiwan Brain Trust founder Koo Kwang-ming, left, speaks at a press conference in Taipei yesterday to announce the results of an opinion poll on next month's presidential election.
Photo: Liu Hsin-de, Taipei Times
Asked which candidate they would support, 44.4 percent favored Tsai, 20.4 percent Chu and 14.2 percent Soong, while 21 percent were undecided, the poll showed.
The think tank also did a cross-analysis on how people voted in 2012 and how they would vote in the Jan. 16 presidential election. It showed that among voters who cast their ballots in favor of Ma and Vice President Wu Den-yih (吳敦義) in 2012, 25.9 percent would vote for Tsai this time and 18.8 percent for Soong.
As to potential changes in voting preferences by political party, a cross-analysis found that 17.6 percent of respondents who voted for a KMT candidate in 2012 would support a DPP one next month, the group said.
Another think tank, the Taiwan Brain Trust, also released its latest poll numbers yesterday, in which 51.1 percent of respondents backed Tsai, 17.1 percent supported Chu and 12.9 percent Soong.
Both surveys asked respondents their opinion over Chinese investment in Taiwan's technology industry, in light of recent controversy over China-based Tsinghua Unigroup Ltd's plans to invest in Taiwan's IC design industry.
According to the Taiwan Brain Trust poll, 70.1 percent of respondents have misgivings about Chinese investment in Taiwan's technology industry, while 80.9 percent support government oversight and control of the issue.
The Taiwan Thinktank poll found that 59.1 percent of respondents said they were concerned about Chinese corporations' acquisition of shares of Taiwanese high-tech industries, citing national security concerns.
Moreover, 57.9 percent said they were concerned that Chinese investment in Taiwanese media outlets would affect freedom of speech, with those aged 20 to 29 especially worried about the issue, Taiwan Thinktank said.
Taiwan Brain Trust's poll was based on a random sample of 1,069 adults aged above 20, with a margin of error of 3 percentage points. Taiwan Thinktank's poll was based on 1,085 effective samples, with a margin of error of 3 percentage points.
Comments will be moderated. Keep comments relevant to the article. Remarks containing abusive and obscene language, personal attacks of any kind or promotion will be removed and the user banned. Final decision will be at the discretion of the Taipei Times.