Support for Tsai slides, Chu and Soong get boost
WINNERS: Most people in a survey after the presidential debate said Tsai performed most like a national leader, while Soong's performance was the most impressive
Democratic Progressive Party (DPP) presidential candidate Tsai Ing-wen's (蔡英文) support rating has declined noticeably following Sunday's televised presidential debate, while those of the other two candidates have increased mildly, according to a survey released by the Cross-Strait Policy Association (CSPA) yesterday.
The telephone-based poll, conducted between Sunday evening and Monday among Taiwanese aged 20 or older, showed that while Tsai maintained a strong lead over her rivals, her support rating has dropped to 45.1 percent, compared with 52.6 percent in a survey released by the association three weeks ago.
In contrast, Chinese Nationalist Party (KMT) presidential candidate Eric Chu's (朱立倫) approval rating rose from 20.1 percent to 22.1 percent over the same period, while a more significant rise was observed in the support rating for People First Party (PFP) presidential candidate James Soong (宋楚瑜): from 9.2 percent to 13.6 percent.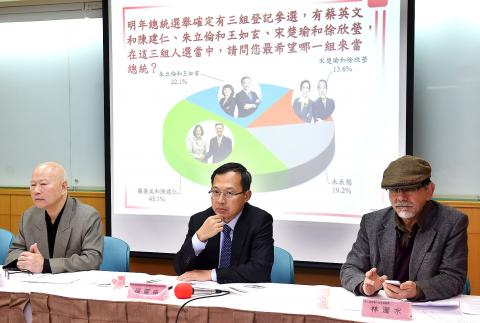 Cross-Strait Policy Association deputy director-general Tan Yao-nan, center, speaks at a news conference in Taipei yesterday announcing the results of a survey on the recent vice presidential and presidential candidates' televised debates.
Photo: Chien Jung-fong, Taipei Times
Despite the decline, the majority, or 75.3 percent, of respondents said Tsai would be the likely winner of the Jan. 16 presidential election, followed by Chu at 10.2 percent and Soong at 2.7 percent.
Regarding the candidates' respective performances in Sunday's debate, respondents appeared to be most impressed by Soong, with 66.3 percent saying the PFP chairman did well during the debate; only 15.9 percent said otherwise, the poll showed.
Coming in second was Tsai, whose debate performance was praised by 62.4 percent of respondents, compared with 21.2 percent who said she did poorly.
Chu was the only candidate whose performance received more negative evaluations than positive ones, with 38.2 percent lauding his performance against 43.8 percent who said he did poorly.
When asked whose policies proposed during the debate they agreed with the most, 42 percent chose Tsai, while 18.9 percent and 15.5 percent opted for Chu and Soong respectively.
Most respondents said that Tsai's performance was most befitting of a national leader, at 42.8 percent, followed by Soong at 26.7 percent and Chu at 19.9 percent.
As for their debate performances in general, 45.5 percent said Tsai outshone the others, while 22.3 percent said Soong came out on top and 20.6 percent supported Chu.
The survey collected 1,210 valid samples. It has a confidence level of 95 percent and a margin of error of 2.82 percentage points.
CSPA secretary-general Anson Hung (洪耀南) said Tsai's approval rating was at its highest of 52.6 percent when KMT vice presidential candidate Jennifer Wang (王如玄) was embroiled in a military housing scandal.
"Three weeks later, Tsai's support rating has returned to its normal level of about 45 percent," Hung said, adding that Soong was undoubtedly the biggest winner in Sunday's debate.
Former DPP chairman Hsu Hsin-liang (許信良) said that, while recent polls have consistently shown Tsai receiving more than 45 percent of support, it was estimated that she could garner at least 60 percent of the vote in the election, which would surpass the 58 percent record set by President Ma Ying-jeou (馬英九) in 2008.
"The upcoming election is not just an ordinary election. It could reset Taiwan's political scene, put the DPP in power for more than a decade and see the downfall of the KMT," Hsu said.
Comments will be moderated. Keep comments relevant to the article. Remarks containing abusive and obscene language, personal attacks of any kind or promotion will be removed and the user banned. Final decision will be at the discretion of the Taipei Times.