Taipei mayor hangs medals on guide dogs
Ahead of the UN's International Day of Persons with Disabilities on Thursday next week, Taipei Mayor Ko Wen-je (柯文哲) yesterday conferred medals on seven Labrador retrievers in recognition of their service to visually impaired people and talked about his theory on why it is important to care for people in need.
Ko said in the opening speech at the awards ceremony that the city government planned to give awards to 10 guide dogs, but three of them were absent.
"What happened to the other three? Did they take a day off or are they on duty?" Ko asked, prompting laughter from the audience.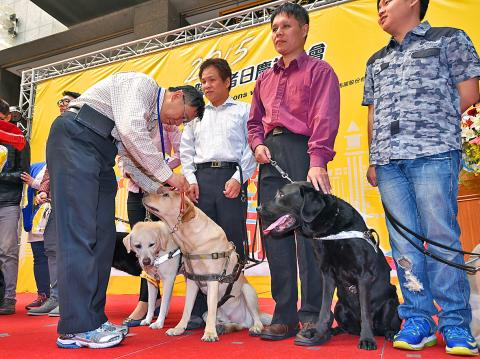 Taipei Mayor Ko Wen-je, left, puts an award around a guide dog's neck at an event in Taipei yesterday.
Photo: Liao Chen-huei, Taipei Times
Ko said the city government has made a great effort to make the city barrier-free, which he said is a quality shared by all civilized cities, and called for more public participation to make Taipei an even friendlier place for people with disabilities.
Ko said that extending kindness to others is being kind to oneself, as caring for people helps improve harmony and maintain peace.
Citing recent terrorist activities globally, Ko said: "If there is too much hatred or distrust among people, it would negatively affect everyone, so protecting those in need not only benefits others, but also oneself."
The occasion also marked the retirement of a black Labrador retriever named Journey, which served his master, a man surnamed Chiu (邱), for nine years.
Chiu said Journey once saved him from being hit by a car, pulling him out of the way.
"It was after dark. We were walking in an alley when a speeding car came along. Journey knew we would not be able to dodge it, so he jerked me to the roadside was hit instead."
Chiu said it is with a heavy heart that he had to part with Journey and it is unlikely that any new guide dog would be able to take the dog's place.
Taipei Department of Social Welfare division head Liao Chiu-fen (廖秋芬) said visually impaired people apply for guide dogs with non-profit organizations, and the department's role is to promote policies to ensure that the dogs have access to all public spaces, including restaurants and transportation systems.
Ko awarded certificates to Taipei residents who have made contributions to assist mentally or physically challenged people.
Award recipient Fan Chu-chieh (范楚杰), a special-education teacher at Taipei Municipal Jianguo High School, said his job is to take care of mentally challenged students and help students with muscular dystrophy to get around on campus.
Fan said that due to high expectations from their parents, mentally challenged students at the school are under considerably more stress than their peers, and that he often finds it difficult to reason with such parents.
He called on parents of students with mental disabilities not to put too much pressure on their children, because they often cannot learn as quickly as their classmates.
Comments will be moderated. Keep comments relevant to the article. Remarks containing abusive and obscene language, personal attacks of any kind or promotion will be removed and the user banned. Final decision will be at the discretion of the Taipei Times.