Traditional stores close as rents rise
NO LINKS: Older stores are struggling to survive in parts of Taipei as government subsidized cultural and creative industries move in and push up rental costs
A century-old traditional herbal medicine store on Taipei's Dihua Street (迪化) has closed because of high rent as cultural and creative industry stores drive the district's rent up, the district business association said.
The traditional apothecary and local architectural landmark AS Watson and Co (屈臣氏大藥房) was founded in 1917 as Taiwan's first affiliate of the international AS Watson Group, before becoming an apothecary in the 1920s.
The store announced its closure because it can no longer afford the rising rent in Dihua, Taipei's traditional marketplace for general stores and apothecaries, Association for the Advancement of Dihua Business president Wu Jung-he (吳榮河) said.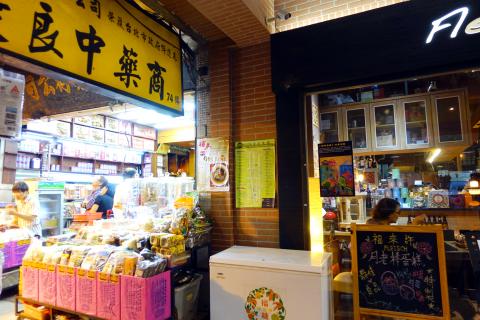 A coffee shop and an adjacent traditional Chinese medicine store are pictured in Taipei's Dihua Street on Wednesday last week.
Photo: Hsiao Ting-fang, Taipei Times
The monthly building rent has risen from NT$100,000 to NT$150,000, Wu said.
A new store opening in Dihua would be charged more, Wu said, adding that he had heard of a property-owner leasing a building for NT$200,000 per month, adding that increasing rent drove him out of business.
"Cultural and creative industries mostly sell memorabilia and trinkets to tourists and people aged under 30, but traditional herbal medicine pharmacies cater to a clientele consisting of middle-aged to elderly people who lead a traditional lifestyle with their families. So moving cultural and creative industries [into the district] is of little help to traditional businesses," Wu said.
A herbal medicine store owner surnamed Lin (林) said that stores classified as cultural and creative industry operators can afford higher rents because they are entitled to government subsidies, but contribute to a general rise in real-estate prices and rents.
Another advantage of cultural and creative stores is that they require less space than traditional pharmacies and general stores, a local business owner surnamed Huang (黃) said.
"Some of the cultural and creative stores even compartmentalize the space they have and sub-let; this gives them a competitive edge," he said.
The benefit of cultural and creative industries in Datong District (大同), Dihua's business district, is hotly debated by local business and property owners.
"I am positive about young elements in an old district [because] they will improve the environment for local businesses," Nanfang (南芳) Borough Warden Lai Hsu Yu-chih (賴徐玉枝) said.
However, Dayou (大有) Borough Warden Hsu Mei-chih (許美智) said: "The new cultural and creative establishments here have no link to local businesses whatsoever," adding that they had little in common with the traditional pharmacies, tea stores and textile stores that they are replacing.
"If there is cooperation between cultural and creative industries and traditional apothecaries, Dihua has the potential of becoming a showcase of traditional herbal medicine," Taipei Chinese Herbal Apothecary Association president Ma Yi-tsai (馬逸才) said.
The Taipei Department of Economic Development said that the city would include the Dihua business district in the urban renewal project budget for the Datong District next year and promised that participatory budgeting procedures would fully involve members of the community and business owners in deciding the use of public resources on Dihua Street.
Comments will be moderated. Keep comments relevant to the article. Remarks containing abusive and obscene language, personal attacks of any kind or promotion will be removed and the user banned. Final decision will be at the discretion of the Taipei Times.