Survey shows significant gap between Chu, Tsai
'DIRTY TRICKS': The KMT chairman said that once his campaign got under way, the DPP started to take action through lawsuits and mudslinging to avoid a fair contest
Chinese Nationalist Party (KMT) Chairman Eric Chu (朱立倫) was trailing his Democratic Progressive Party (DPP) counterpart by 18 percentage points, the latest survey conducted by the Chinese-language China Times regarding support for presidential candidates published yesterday showed.
The results showed that 38.9 percent of respondents said they would vote for DPP presidential candidate Tsai Ing-wen (蔡英文), 21.8 percent for Chu and 8.8 percent for People First Party Chairman James Soong (宋楚瑜).
If a "pan-blue integration" were to occur, meaning that Soong withdraws from the race, both Tsai and Chu's support would increase, with respondents supporting Tsai rising to 45.7 percent and Chu to 27 percent.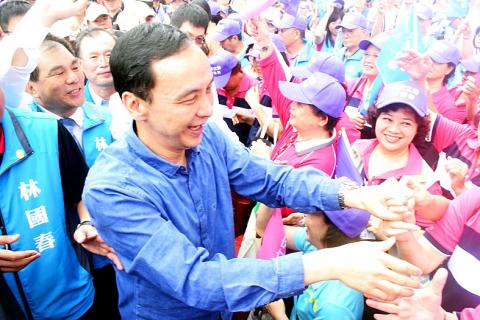 Chinese Nationalist Party (KMT) presidential candidate Eric Chu shakes hands with supporters in New Taipei City yesterday.
Photo: Chen Wei-tsung, Taipei Times
"It shows that Tsai is almost guaranteed to win the presidential election," the newspaper said.
The poll also found that 47 percent of voters have concerns over the possibility of the DPP winning both the presidency and a legislative majority, while 23.9 percent were in favor of the DPP having a complete victory.
In response to the results of the survey, Chu said that the numbers were due to him having only just begun his campaign.
"A significant amount of pan-blue supporters still cannot forgive us, as they are harboring grudges. We have to continue to work hard to gain their support," he said.
"The DPP started to act after I stepped into the ring, resorting to tricks such as lawsuits, mudslinging and legislative boycotts to avoid a fair competition," added Chu, who was in New Taipei City stumping for a KMT legislative candidate.
"Those are tricks from 20 to 30 years ago, and the DPP is still using them. It shows a lack of confidence in a party that wants to govern the nation. As I see it, the DPP would be best left as a perpetual opposition party," Chu said.
The China Times survey was completed on Thursday through the collection of 716 valid questionnaires, with a confidence level of 95 percent and a margin of error of 3.7 percentage points.
Comments will be moderated. Keep comments relevant to the article. Remarks containing abusive and obscene language, personal attacks of any kind or promotion will be removed and the user banned. Final decision will be at the discretion of the Taipei Times.