Students pan government 'study assistantship' plan
New plans for universities to use "self-government" to implement a system of "study assistantships" should be blocked, student protesters said yesterday, alleging that the assistantships were designed to avoid new rules granting full labor protections to student teachers and research assistants.
"If universities are able to use the principle of self-government to get rid of the Labor Standards Act (勞動基準法), the nation's 600,000 research assistants would become orphans outside the scope of labor protections, exposing them to being fired or having their salaries cut at will, with no place to turn if they suffered injuries on the job," National Chengchi University Student Labor Rights Association member Wu Chao-ju (吳昭儒) said.
"If you want to serve as a teaching assistant, you would have to take a [teaching] course that is worth no credits, despite the work being the same as before — yet, somehow, schools could say that you are 'learning as an assistant,' rather than working," he said.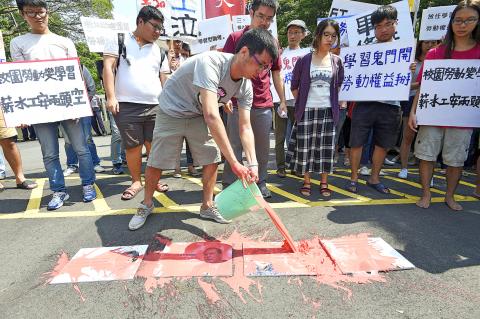 University students and representatives of the Taiwan Higher Education Union protesting in front of the Executive Yuan in Taipei yesterday pour red ink on pictures of university presidents who they said had abused their school's part-time teaching assistants.
Photo: Chen Chih-chu, Taipei Times
Taiwan Higher Education Union organization department director Lin Po-yi (林柏儀) called for the government to "fully implement" student employees' rights according to the act, blasting university claims that assistantships should not be considered "jobs."
"Do people not learn things wherever they work?" he said. "If there is a reality of work, there should be labor guarantees, regardless of whether you are a student or are learning on the job."
Schools ought to classify all student positions regardless of content as "study assistantships," he said, citing National Tsing Hua University's using the term to classify student "dorm managers."
National Chengchi University doctoral student Lin Yi-chih (林奕志) said that only if assistants were awarded the protections of the act would they be able to "fight back" against unreasonable faculty demands to perform manual tasks unrelated to their studies, such as walking dogs or watering plants.
Protesters poured red paint over photographs of university heads to symbolize the "blood and sweat" of research assistants, while calling on the government to budget subsidies to schools to cover students' inclusion in the National Labor Insurance.
Student advocates and schools have been engaged in a prolonged tug-of-war over labor standards after the Ministry of Labor earlier this year ruled that the assistants were within the scope of the act.
University heads reportedly submitted a petition to the Executive Yuan on Tuesday, calling for the ruling to be overturned, or for additional time to be allowed for compliance.
Comments will be moderated. Keep comments relevant to the article. Remarks containing abusive and obscene language, personal attacks of any kind or promotion will be removed and the user banned. Final decision will be at the discretion of the Taipei Times.