Designers raising cash for new font
INSPIRED BY TEA: Development of a new traditional Chinese character style has been inspired by a fusion of fonts, lending the characters a lighthearted, unique air
When thinking of Taiwan, people often think of the nation's gastronomic industry. Few, outside of those seeking to learn the Chinese language, remember that Taiwan is the only nation in the world that still uses traditional Chinese characters.
In the hope of drawing more attention to traditional Chinese characters, the JustFont group on Tuesday started a fundraiser to design a new font for the traditional block Mandarin characters called the Jinshuan (金萱) style.
JustFont had raised NT$21 million (US$642,000) as of 8pm yesterday.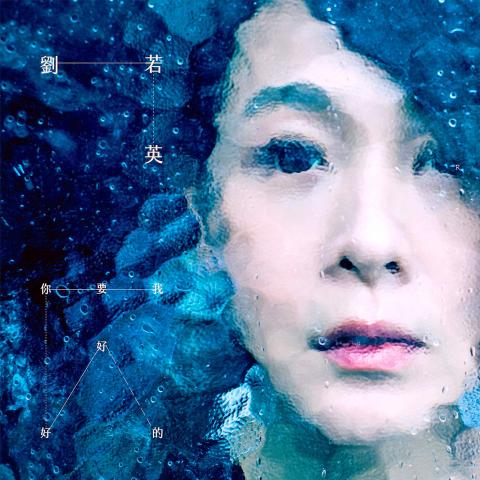 The cover of singer Rene Liu's latest album is pictured in an undated photograph, featuring characters in Jinshuan style.
Photo: CNA
The campaign raised its target of NT$1.5 million within an hour of its announcement on Tuesday, JustFont co-founder Su Wei-hsiang (蘇煒翔) said, adding that he was flattered by the support.
"The goal for this fundraiser is to develop a style that is uniquely Taiwanese," he added.
Founded in 2012 as a Chinese cloud-top font service devoted to design and development of Chinese font types and styles, the group said it hopes the Jinshuan font would be widely used after its initial exposure.
"Font types need to be exposed and we hope that this campaign will bring sufficient attention to Taiwan's font industry," Su said, adding that font designers contribute to everyday life, but are often overlooked.
Jinshuan style was named after Jinshuan tea. The font style is a mix of Ming style and sans serif-style, and because Jinshuan is a mix of fermented and unfermented teas that is where the name came from, Su said.
Jinshuan style contains the base of Ming style, but also the simplicity and strength of sans-serif font, Su said, adding that it could be widely applied to cartoons that aim to have a more literary air or are lighthearted in nature.
According to Su, the starting cost to develop a new style is about NT$1.5 million, the original target set for JustFont fundraising, adding that the group would look to develop more Chinese fonts.
JustFont co-founder Yeh Chun-lin (葉俊麟) said that font design does not usually make money and there is a distinct lack of investors, adding that the organization has made clear to supporters that the company would shoulder some of the costs and all money raised would be used on the project.
The project hopes to introduce the Jinshuan font by August next year and is to continue to develop the typeface, releasing alternate versions in 2017 and 2018 respectively, Yeh said.
As for the font's departure from the Ministry of Education's standard, Su said that the standard was education-centric and might not be suitable for printing, as it would interfere with font aesthetics.
Taiwanese singer Rene Liu (劉若英) has featured a pre-release of the font type on the cover of her up-coming album, which is slated for release on Sept. 22.
Comments will be moderated. Keep comments relevant to the article. Remarks containing abusive and obscene language, personal attacks of any kind or promotion will be removed and the user banned. Final decision will be at the discretion of the Taipei Times.