MRT attacker must pay NT$29.8m
CIVIL CASE: Family members who sued Cheng Chieh, perpetrator of last year's Taipei MRT attack, have been granted compensation but are unlikely to see any money
The New Taipei City District Court yesterday ordered Cheng Chieh (鄭捷), who attacked passengers on Taipei's MRT last year, to pay NT$29.81 million (US$938,307) in compensation to the victims of his attack. However, they are not likely not receive any money, because Cheng has no assets registered in his name.
In the court statement, the judge wrote that Cheng has yet to apologize to his victims and their families, and has shown no remorse for his actions.
The judge ruled Cheng must pay compensation to 10 people who filed a civil action against him. Yesterday's ruling can be appealed.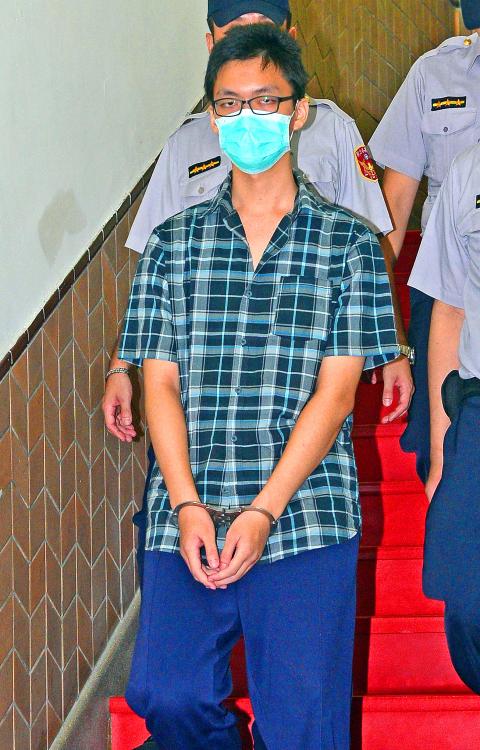 Cheng Chieh, the 21-year-old male responsible for four deaths and 23 injuries in Taipei's MRT metro rail system last year, is escorted by police to an appearance in court on June 22 in Taipei.
Photo: Wang Yi-sung, Taipei Times
Cheng, then a student at Taichung's Tunghai University, attacked passengers on the metro rail on May 21 last year on the Bannan Line between Longshan Temple Station and Jiangzicui Station.
He killed Hsieh Ching-yun (解青雲), Chang Cheng-han (張正翰), Lee Tsui-yun (李翠雲) and Pan Pi-chu (潘碧珠) and injured 23 others.
The civil case was filed by family members of Pan and seven people who were injured in the attack. They requested that Cheng pay for medical treatment, compensation for mental suffering and emotional distress to victims and their families and other expenses.
Families of other people killed in the attack did not join the civil case, because Cheng does not have any registered assets or property in his name.
Family members of Hsieh and Chang said they did not know that civil cases required the plaintiffs to file a petition with the court.
Chiu Mu-sen (邱木森), Pan's husband, was one of the plaintiffs in the case.
"We know that we are most unlikely to receive any compensation from the ruling. Our purpose for filing the case was not for money; we want to hold Cheng accountable and to pay for his heinous crime," Chiu said in a press interview after the court ruling yesterday.
"Cheng may not pay in this lifetime, but when he is reincarnated, he still has to pay in his next life," Chiu said.
On March 6, the New Taipei City District Court collegiate bench found Cheng guilty on four counts of murder and 23 counts of attempted manslaughter, handing down four death sentences and a jail term of 144 years.
Cheng's legal team has appealed the ruling to a second-trial court.
Comments will be moderated. Keep comments relevant to the article. Remarks containing abusive and obscene language, personal attacks of any kind or promotion will be removed and the user banned. Final decision will be at the discretion of the Taipei Times.