FEATURE: Student protest a 'reprise' of Sunflower movement
With a student protest occupying the Ministry of Education's forecourt entering its 60th hour as of noon yesterday, the discipline and persistence demonstrated by protestors at the site so far have led to members of the public describing it as a "reprise" of the Sunflower movement in March and April last year.
One memorable aspect of last year's Sunflower movement, in which student protesters' occupied the Legislative Yuan's main chamber for almost 23 days in protest against the government's handling of a cross-strait service trade agreement, was the way in which protesters organized groups to clean up trash and maintained order.
Hundreds of student protesters broke through a police barricade in front of the ministry's compound in the early hours of Friday morning, demanding that the ministry withdraw changes to high-school curriculum guidelines.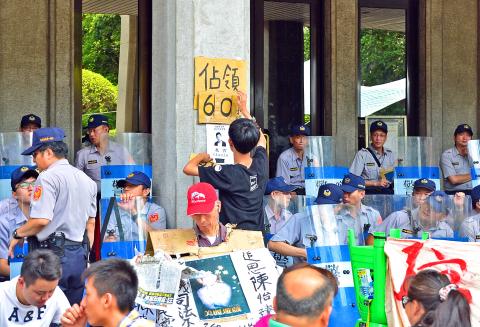 A student protester adjusts a sign to show that the occupation of the Ministry of Education's forecourt in Taipei has been going on for 60 hours.
Photo: Wang Yi-sung, Taipei Times
After entering the ministry compound, the students sat at the forecourt of the ministry building, exchanging ideas about the guideline alterations throughout the day and sleeping on the ground at night, protected by those who volunteered to take shifts standing guard.
Clumps of white roses from those who mourned student activist Dai Lin (林冠華) — who allegedly took his own life on Thursday to raise public awareness about the government's indifference toward students' appeals — covered barricades nearby.
A main stage for speeches has been set up, along with booths offering medical treatment, media liaisons and general services.
Protesters distributed food and bottled water they had prepared for their fellow demonstrators, while volunteers at a medical station on Zhongshan S Road, in front of the ministry, took care of those suffering from heatstroke.
Some demonstrators gave out flyers to passers-by, hoping to increase public awareness of their cause.
A female student at Hsinchu County's Hulin Junior High School, surnamed Wan (萬), said she had slept outside the ministry building to express solidarity with other student protesters.
"I would like to express my gratitude to the high-school students for everything they have done," she said.
Over the past two days, the protesters awoke at 7am for a group newspaper reading and discussion session, after which they vowed never to leave the compound unless the ministry withdraws the controversial curriculum guidelines.
Police on Saturday morning removed barbed wire and barricades. Later, some student protesters also performed a Hoklo (also known as Taiwanese) version of Do You Hear the People Sing? from Les Miserables and a song by Hong Kong rock group Beyond, which was used as the theme of the Occupy Central movement in Hong Kong last year.
Perimeters were once again set up by nightfall, but the demonstrators' resolve that the ministry relinquish the altered guidelines seemed to grow stronger as the sit-in progressed, as students took turns delivering speeches onstage and put the white roses back on the barricades.
A woman surnamed Chu (朱) said that before the students' protest over the curriculum issue, her mother and grandfather had been Chinese Nationalist Party (KMT) stalwarts, adding that it was not until they learned about the government's alleged tampering with Taiwanese history that they found out how little they actually knew about Taiwan.
"I hope younger generations never have to study textbooks indoctrinating outdated ideas," she said.
Additional reporting by Chen En-hui and Chien Li-chung
Comments will be moderated. Keep comments relevant to the article. Remarks containing abusive and obscene language, personal attacks of any kind or promotion will be removed and the user banned. Final decision will be at the discretion of the Taipei Times.