Deputy Taipei mayor relieved of Universiade duty
The Taipei City Government yesterday confirmed reports that Deputy Taipei Mayor Chou Li-fang (周麗芳) has been relieved of her responsibilities as 2017 Universiade chief executive officer.
"The Universiade needs a full-time executive, but there is no way [Chou] can spend half of every day at the Taipei Arena," Ko said, terming the change a "reassignment of duties."
In response to media reports terming Chou "indecisive," Ko said that everyone had their own opinion, but he believed in "using people's strong points instead of their weaknesses."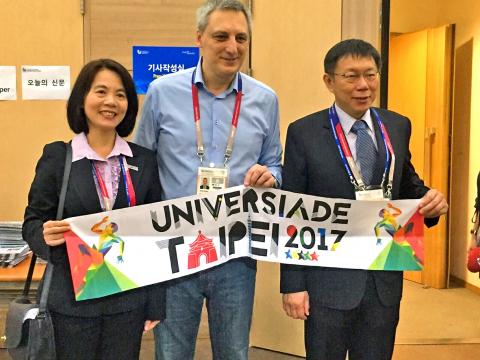 Taipei Mayor Ko Wen-je, right, and Deputy Taipei Mayor Chou Li-fang, left, and a Universiade official hold a banner in Taipei on Monday last week.
Photo: Kuo An-chia, Taipei Times
It was not necessary to respond to every criticism, he said.
Chou's appointment as Taipei's third deputy mayor came months after the appointments of the others in the role, while she assumed the post of Universiade executive after an open call for applications failed to find a suitable candidate.
At the time, Ko had expressed confidence in Chou's ability to manage the event, despite her lacking an athletics background, saying that the executive committee that she would head would exercise "collective leadership."
Chou said that finding a full-time Universiade CEO was necessary because the staff charged with organizing the event at the Taipei Arena should not be left "headless."
"The responsibility of a deputy mayor is multi-layered and I can not move my office to the Taipei Arena just because of the Universiade," she said, adding it was "necessary" to find someone to "share the burden."
Chou said that her gaining the assent of the International University Sports Federation (FISU) for the transfer of the Universiade's opening and closing ceremonies from the Taipei Dome to the Taipei Municipal Stadium demonstrated her ability.
Taipei applied for the change after conflict with the dome's contractor Farglory Group (遠雄集團) created uncertainty over its completion date.
Chou is responsible for major international events such as the Universiade and next year's World Design Capital as part of a broader division of duties that places her in charge of city "software" such as cultural events and marketing, with the other deputy mayors responsible for negotiations with outside groups and the "hardware" of city development plans.
Her previous responsibilities as Universiade CEO are to be shouldered by Research, Development and Evaluation Commission Chairman Chen Ming-shiun (陳銘薰).
Chou is to continue to serve as the vice-chairperson of the Universiade Hosting Committee to which the Universiade CEO reports.
Ko serves as the committee's chairman.
Comments will be moderated. Keep comments relevant to the article. Remarks containing abusive and obscene language, personal attacks of any kind or promotion will be removed and the user banned. Final decision will be at the discretion of the Taipei Times.