Professor shames student on Facebook
DUMB MOVE: A student who posted an exam answer sheet on social media to help classmates has vowed never to do it again after the snapshot was seen by a teacher
A student who sent a photograph of his answer sheet for an English final exam to a messaging app Line chat room in a bid to help classmates got a quick lesson on the perils of posting and the power of social media.
The student had either forgotten, or ignored the fact that the Line chat room for a university sports team members included the team's coach, a professor at the university.
The professor, surnamed Lee (李), who declined to reveal his full name, university affiliation or the identity of the student, said he gave the student a dressing down and, as a punishment, posted their text messages on Facebook.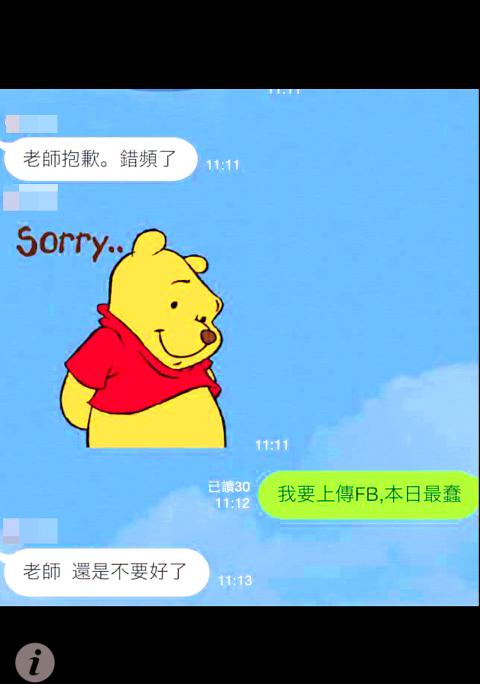 A conversation between a university professor surnamed Lee and a student on messaging app Line is seen in this undated photograph posted on Facebook.
Screen grab from Facebook
Lee said he was enraged by the student's dishonesty and stupidity when he saw the photograph on the team's Line chat room, and sent the student a sarcastic message: "Is this kindergarten English?"
A second message said: "Are you an idiot, cheating by sending the message to this chat room?"
The student replied: "I am sorry, teacher. I sent the message to the wrong room."
When he told the student that he would post the messages on Facebook under the heading "the most stupid incident today," the student asked him not to, Lee said.
"I thought it was cool to look after my classmates, but Mr Lee scolded me severely and asked me not to make the same mistake again. I admit the mistake and promise not to repeat the same mistake ever again," Lee quoted the student as saying.
Lee's shaming of the student on Facebook, whom he described as "outrageously stupid," quickly went viral.
Lee said that he was not going to fully identify himself, the student or the school to give the student a second chance and avoid a potential demerit.
However, Lee is known to be a former student of Shieh Jyh-cherng (謝志誠), a former National Taiwan University professor.
Shieh said that college students must have self-esteem and exercise self-discipline because professors are not going to conduct body searches on students taking exams to ensure no cellphones are taken into exam rooms.
His policy was to speak to students caught cheating in exams, and if they acknowledged their mistake, he gave them a zero on the exams as punishment, Shieh said.
If they refused to admit they were cheating, he said he reported them to the university, which could hurt their academic careers.
Comments will be moderated. Keep comments relevant to the article. Remarks containing abusive and obscene language, personal attacks of any kind or promotion will be removed and the user banned. Final decision will be at the discretion of the Taipei Times.