Hung wants political talks on cross-strait agenda
Chinese Nationalist Party (KMT) presidential hopeful Hung Hsiu-chu (洪秀柱) yesterday proposed placing political talks on the cross-strait agenda to relieve the bottleneck holding up development of cross-strait relations and to ensure that both sides of the Taiwan Strait are on an equal political footing.
During a radio interview yesterday, Hung, branded by some as a "radical pro-unification advocate," clarified the "one China, common interpretation" policy she has proposed in lieu of the so-called "1992 consensus" — a tacit understanding between the KMT and the Chinese government that both sides acknowledge there is "one China," with each side having its own interpretation of what "China" means, which President Ma Ying-jeou (馬英九) claims was reached by the two sides in Hong Kong in 1992.
Instead of Taiwan and China each having their own interpretation of what "one China" means, Hung has proposed that both sides have a "common interpretation."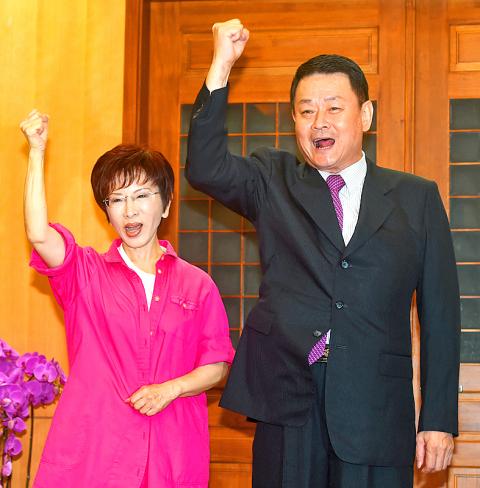 Chinese Nationalist Party (KMT) Legislator Tsai Chin-lung, right, poses for a promotional photograph with Deputy Legislative Speaker and KMT presidential candidate hopeful Hung Hsiu-chu in Taipei yesterday.
Photo: Chien Jung-fong, Taipei Times
One reason supporting a "common interpretation" is that "[Beijing] has never recognized our existence," Hung said.
"[The purpose of] 'one China, common interpretation' is to demand that Beijing recognize the fact that the Republic of China [ROC] government exists," she added.
Hung described her proposal as an "advanced version of the '1992 consensus.'"
The cross-strait relationship has advanced well with adherence to the "1992 consensus" under the Ma administration, as evidenced by the signing of 21 agreements over past years, but it has recently experienced a "bottleneck," Hung said.
The development of cross-strait relations has been held up by qualms that economic benefits generated have been reaped by certain groups and not shared with the public, and that "political reconciliation did not occur," Hung said.
She added that the delay to the ratification of a cross-strait service trade agreement, caused by the Sunflower movement in March and April last year, has "affected mutual trust."
Relieving the bottleneck would require that both sides move into a "deep-water zone" to address "our political status," otherwise the definition of what the cross-strait relationship is would remain shrouded in ambiguity, Hung said.
"Is [Beijing] not saying that the two sides [of the Taiwan Strait] are like a family? I have to say, it is not a relationship between father and son, but a relationship between brothers," she said. "We care about equality and dignity."
In addition to the demand that the existence of the ROC government be recognized, Hung said she would also press Beijing to ensure peaceful development of relations by asking China to guarantee it will not use military force against Taiwan.
Although the first half of "one China, common interpretation" is based on the "one China" principle, Hung said, the People's Republic of China (PRC) claiming sovereignty over Taiwan would be an "overly broad interpretation."
"We continue to oppose the claim that Taiwan is part of the PRC. We do not agree that the ROC forfeited its sovereignty [to the PRC since 1949]. We oppose the use of force to resolve cross-strait issues and any attempts to alter [the ROC] Constitution and the [Taiwanese] way of life," Hung said.
Hung said she rejected the "pro-unification" label, because she is "pro-ROC."
Hung said it is immoral to label her as "pro-unification," especially after she proposed "one China, common interpretation" and a cross-strait peace agreement, because such an accord would be contingent on the principles she has outlined.
Separately, Hung approved of the comments by former minister of foreign affairs Cheng Chien-jen (程建人), one of her diplomatic advisers, who said the likelihood of Hung visiting Washington to exchange views with the US over her cross-strait policies has "fallen to its lowest point."
"You could say that, but that does not mean that I do not value the relationship between the US and Taiwan or that I do not understand how important the US is to Taiwan," Hung said, when asked to comment on the issue.
Hung said her team would factor in whether a trip to the US would be in the best interests of the nation and her campaign schedule before a final decision is made.
The US would understand, as the election would be less than half a year away after the party formally endorses her nomination next month, she added.
Hung acknowledged she made "improper" remarks last week in response to an invitation extended by American Institute in Taiwan Director Kin Moy for her to visit Washington and her rebuttal of KMT Chairman Eric Chu's (朱立倫) claim that such a trip would be possible in August or September.
The deputy legislative speaker said she sometimes talks in a "frivolous" manner and in a "light" tone, but she acknowledged that her comments were "improper" as she is now a potential presidential candidate.
Chu later tried to downplay the discrepancy between him and Hung over whether Hung visiting the US is necessary.
"We are moving in the same direction. Along the way, we all know that sometimes we bite our tongues. There is no right or wrong in this case. We are all working hard to win everyone's support," Chu said.
Comments will be moderated. Keep comments relevant to the article. Remarks containing abusive and obscene language, personal attacks of any kind or promotion will be removed and the user banned. Final decision will be at the discretion of the Taipei Times.