Tsai's US trip leads to boost in public support: survey
PROVING POPULAR: In addition to a high rate of satisfaction with Tsai's performance, 71.8 percent agreed with her remarks on maintaining the 'status quo'
More than 60 percent of respondents in a poll said they were satisfied with Democratic Progressive Party (DPP) Chairperson Tsai Ing-wen's (蔡英文) performance during her US visit, and more than 70 percent believed the trip would contribute positively to her presidential bid, Taiwan Brain Trust said yesterday.
"According to the results of our latest opinion poll, 64.4 percent of respondents said that they were satisfied with Tsai's performance during the trip, with only 16.3 percent saying they were not satisfied," Taiwan Brain Trust chairman Wu Rong-i (吳榮義) told a news conference in Taipei. "Moreover, 71.3 percent of respondents believed that the visit would have a positive impact on her presidential campaign, while only 19.9 percent disagreed."
Meanwhile, 71.8 percent of respondents agreed with Tsai's remarks about maintaining the cross-strait "status quo" during a speech at the Center for Strategic and International Studies in Washington.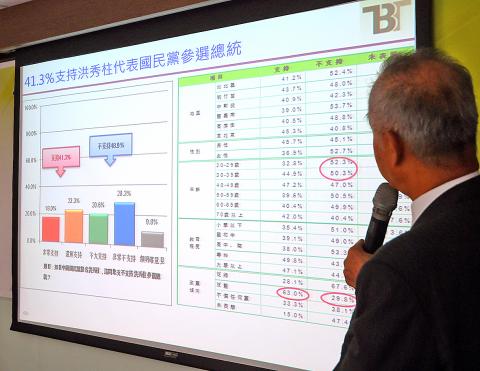 Taiwan Brain Trust president Wu Rong-i yesterday displays the results of a survey in Taipei following Democratic Progressive Party Chairperson Tsai Ing-wen's visit to the US.
Photo: Fang Pin-chao, Taipei Times
In addition, "67.6 percent of respondents agreed with Tsai's promise to create a 'consistent, predictable and sustainable cross-strait relationship,' and 49.2 percent were confident that the DPP is capable of maintaining peaceful and stable cross-trait ties if it is elected to power," Wu said.
The survey also pitted Tsai against potential Chinese Nationalist Party (KMT) rivals in the January presidential election — Deputy Legislative Speaker Hung Hsiu-chu (洪秀柱), Legislative Speaker Wang Jin-pyng (王金平), New Taipei City Mayor and KMT Chairman Eric Chu (朱立倫) and Vice President Wu Den-yih (吳敦義) — with Tsai consistently emerging as the winner.
According to poll numbers, Tsai would garner 55 percent of support against Hung's 31.3 percent, 49.1 percent over Wang's 38.4 percent, 52.5 percent versus Chu's 37.1 percent and 68.4 percent against Wu's 19.2 percent.
The poll was conducted last weekend with 1,085 valid samples from people aged 20 and above, who were randomly selected by telephone across the nation.
Comments will be moderated. Keep comments relevant to the article. Remarks containing abusive and obscene language, personal attacks of any kind or promotion will be removed and the user banned. Final decision will be at the discretion of the Taipei Times.