Tsai responds to Lin's broadside blast
MIX AND MATCH: Democratic Progressive Party Chairperson Tsai Ing-wen said negotiations with rising political entrants could lead to ideal legislative candidates
Democratic Progressive Party (DPP) Chairperson Tsai Ing-wen (蔡英文), responding to veteran political activist Lin I-hsiung's (林義雄) remarks targeting the party on Friday, yesterday said that the idea of maintaining the "status quo" does not contradict the Resolution on Taiwan's Future in the DPP charter.
Lin said that Tsai's "maintaining the 'status quo'" is a mystery to him, asking whether it is so hard to follow the DPP's charter on this issue.
In response, Tsai said that the basic idea of "maintaining the 'status quo'" is calling for open, transparent and fairer dealings in cross-strait affairs and public participation in policies, which are "not inconsistent" with the resolution.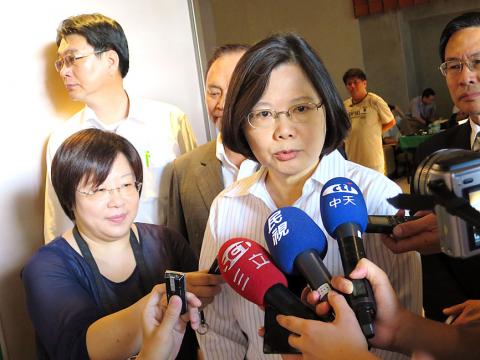 Democratic Progressive Party Chairperson Tsai Ing-wen, right, speaks to reporters in Taipei yesterday.
Photo: Chen Hui-ping, Taipei Times
Tsai said that maintaining the "status quo," as she has repeatedly said, is to maintain a peaceful Taiwan Strait and the stable development of cross-strait relations.
Various surveys have shown that the idea has the support of an absolute majority among Taiwanese, and could be a foundation for Taiwanese solidarity and keeping the Taiwan Strait peaceful, giving Taiwanese the time and energy to carry out internal reforms, she said.
Lin also spoke about the DPP having yielded just 13 electoral districts to rising, so-called "third political forces."
Tsai responded that she would hope a candidate who is most likely to win would emerge from the process of nominations, mediation and integration with the smaller parties.
Tsai said she could empathize with Lin's concerns, adding that she believes that no one cares more than she does about whether the legislature and its agenda are to be dominated by progressive forces after the next election.
"The candidates do not have to be DPP-nominated," she said.
Referring to the relationship the DPP developed with Taipei Mayor Ko Wen-je (柯文哲) in his campaign last year, Tsai said: "[The party] would have relative flexibility in the legislative election as well."
"However, mediated integration must be quick," Tsai said, adding that as many of the candidates of the third force are first-timers, they might need a longer period of preparation.
Tsai said that the DPP must also take its supporters' feelings into account, and since the DPP is a democratic organization, the chairperson is not the one to have the final say on nominations, which should abide by the party's system and mechanism, with participation from supporters.
Only when the process has been completed will supporters be ready to back the candidates of the third political force who emerge from the integration, she added.
Comments will be moderated. Keep comments relevant to the article. Remarks containing abusive and obscene language, personal attacks of any kind or promotion will be removed and the user banned. Final decision will be at the discretion of the Taipei Times.