Sand sculpture festival marks start of summer
BUILT ON SAND: A 'United Nations of Toys' theme inspired sculptures by 27 artists from 13 nations, with an Apache helicopter drawing special attention
The annual Fulong International Sand Sculpture Festival in New Taipei City's Gongliao District (貢寮) began yesterday to mark the beginning of summer, with an extravaganza of sculptures by artists from around the world depicting various toys and games.
With a "United Nations of Toys" theme, a competition running alongside the festival saw 27 artists from 13 nations sculpt a sandy delight for children and adults alike, with a wide array of toys, ranging from chess pieces, toy soldiers, Barbie dolls and radio-controlled cars to more local playthings like glove puppets and shuttlecocks, or jianzi, event organizers said.
Among the sculptures displayed on Fulong Beach, an Apache helicopter drew special attention, as tourists posed with the sandy aircraft in apparent attempts to mimic television personality Janet Lee (李蒨蓉), who sparked a public outcry by posting on Facebook pictures of her and her husband in the cockpit of an Apache helicopter at a restricted-access military base last month, organizers said.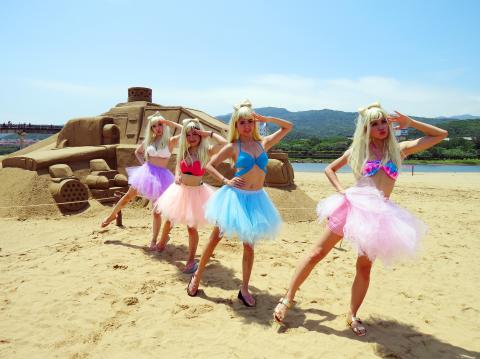 Four models pose in front of a sculpture of an Apache helicopter at the Fulong International Sand Sculpture Art Festival that opened at Fulong Beach in New Taipei City's Gongliao District yesterday. The event runs through July 12.
Photo: Yu Chao-fu, Taipei Times
A flock of sand sheep was constructed to mark the Year of the Sheep, they said.
The festival is open daily from 8:30am to 6pm, and runs through July 12, they added.
It is recommended that tourists intending to go to the beach on public holidays use public transport to avoid holiday traffic, the New Taipei City Government said.
Comments will be moderated. Keep comments relevant to the article. Remarks containing abusive and obscene language, personal attacks of any kind or promotion will be removed and the user banned. Final decision will be at the discretion of the Taipei Times.