DPP vows to keep 'status quo' going in cross-strait ties
The Democratic Progressive Party's (DPP) China Affairs Committee yesterday said it would maintain the "status quo" in dealing in cross-strait relations.
The committee also said it looks forward to exchanges with the Chinese Communist Party (CCP).
"First, our fundamental principle in dealing with cross-strait relations is maintaining the status quo, that is, keeping the peace across the Taiwan Strait and continuing to maintain the status quo of stable development in cross-strait relations," DPP spokesperson Cheng Yun-peng (鄭運鵬) told a news conference following the committee's second meeting.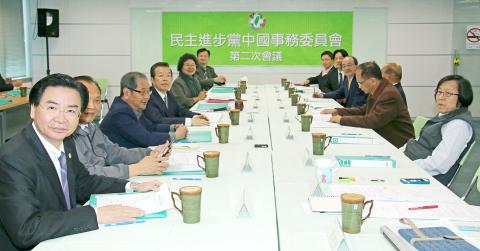 The Democratic Progressive Party's China Affairs Committee hold its second meeting yesterday in Taipei.
Photo provided by the Democratic Progressive Party
"This would lie at the core of cross-strait relations and be the objective of the DPP after we return to power," Cheng added, quoting DPP Chairperson Tsai Ing-wen (蔡英文).
Tsai presided over yesterday's meeting.
Tsai also called on Beijing to think of cross-strait relations outside of the frame of exchanges between the Chinese Nationalist Party (KMT) and the CCP, as it is normal in a democracy like Taiwan to have transitions of power, Cheng said.
Only when Beijing keeps in touch with each party in Taiwan can there be good ties between the two sides no matter what party is in power, he said.
Tsai stressed that if the DPP returns to power, it would have responsible cross-strait policies to avoid accidents and would refrain from sparking controversies, conflicts and disputes, Cheng said.
Kaohsiung Mayor Chen Chu (陳菊), who also attended the meeting, said that Beijing should look beyond KMT-CCP ties when dealing with cross-strait issues.
"If [cross-strait relations] are limited to developing KMT-CCP ties, it would be too narrow and not representative all of Taiwanese society," Chen told reporters.
"[DPP-CCP] exchanges are something we would work for. We look forward to opportunities for formal DPP-CCP exchanges," she said.
Chen said that cities and counties governed by the DPP have been positive and active in handling cross-strait relations.
"We think it would help to create a friendly atmosphere by setting up cross-strait task forces in each county and city," she said.
"Only when we try to seek similarities between the two sides, have tolerance and enhance mutual understanding could we pave the way to improvements in cross-strait links," the mayor said.
Tsai also said that the US is one of the nation's most important international partners and promised that the DPP would keep channels of communication with the US open.
Comments will be moderated. Keep comments relevant to the article. Remarks containing abusive and obscene language, personal attacks of any kind or promotion will be removed and the user banned. Final decision will be at the discretion of the Taipei Times.