Expert conservator bringing paintings back to life
Works of art can be timeless, but their inevitable physical deterioration requires the skilled hands of an expert conservator to restore them to their former glory.
Tsai Shun-jen (蔡舜任) is an oil painting restorer — something of a rarity in Taiwan — and also repairs religious artifacts.
He said he produced many oil paintings during his time as a fine arts student at Tunghai University.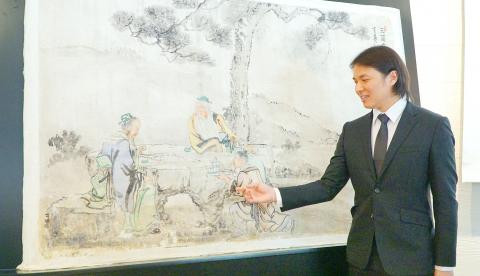 Oil painting restoration expert Tsai Shun-jen presents a fresco in Tainan on March 11. The fresco was rescued by his team in the first successful non-destructive transplantation of a fresco in Taiwan.
Photo: Huang Hsin-po, Taipei Times
Rummaging through his portfolio one day, he found that some paintings developed mold, and this sparked his interest in art conservation.
Years later, Tsai was offered a position at the Ministry of Culture's Bureau of Cultural Heritage, where he had the opportunity to work with highly skilled conservators.
This experience rekindled his aspiration to become a professional art restorer.
His determination took him to Italy, where he distributed pamphlets on the streets asking for an unpaid apprenticeship to learn the art of restoration.
Undeterred by initial rejections, he finally came across restoration artist Andrea Ciprian, who agreed to mentor him.
After years of training, Tsai has made a name for himself in art circles, having been tasked with helping conserve the Netherlands' national collection of oil paintings, as well as artworks in the Dutch Pavilion at the 2010 Shanghai World Expo and artifacts damaged by floods during Hurricane Katrina in the US.
He was an apprentice to world-class restoration artist Stefano Scarpelli and became the first Taiwanese to obtain an art restoration degree for oil painting conservation at Palazzo Spinelli — an Italian institute renowned for cultural conservation and education.
Despite international recognition, Tsai said he never forgets what first motivated him to choose this career path — a desire to restore Taiwanese artifacts.
He returned to Taiwan and founded a studio in 2013 to rescue damaged religious artifacts, especially those depicting door gods, he said.
"I want to apply my skills and knowledge in Taiwan and hopefully preserve more native artworks for my homeland," he said.
Comments will be moderated. Keep comments relevant to the article. Remarks containing abusive and obscene language, personal attacks of any kind or promotion will be removed and the user banned. Final decision will be at the discretion of the Taipei Times.