Foam party sparks ecological backlash
CORAL CONCERN: Foam from a party could damage coral eggs, a marine biologist said, urging Kenting National Park officials to investigate Spring Scream
Environmentalists yesterday criticized organizers of the Kenting Spring Scream music festival for allegedly discharging large quantities of foam into the ocean, saying that the act could endanger coral and other marine life.
In addition to pop singers, the event featured a "foam party" with scantily clad women wrestling in a plaza in front of the Howard Beach Resort Kenting, attracting thousands of revelers.
Pingtung Environmental Protection Union director-general Hung Hsiang-hui (洪祥輝) criticized the event, saying the runoff posed an immediate danger to corals off the coast as they enter egg-laying season next month.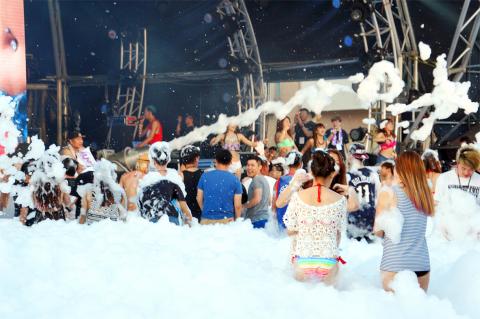 People dance in foam near a stage at the Kenting Spring Scream music festival in Pingtung County yesterday. Conservationists are worried about the foam's possible effects on offshore coral colonies.
Photo: CNA
Corals lay eggs from May to June every year, when sea temperatures rise to between 28°C and 30°C, Hung said.
He said the unprocessed runoff likely contained nitrogen, sulfur and phosphorous, which could destroy coral and wreak havoc on marine ecology.
He urged the Kenting National Park Administration to improve environmental management at the park and investigate the amount of foam discharged into the sea and its contents.
"We cannot allow our nation's natural resources to be damaged by the private sector for the sensual pleasure of a small group of people," he said.
National Dong Hwa University marine biologist Chiu Yu-wen (邱郁文) said that the foam would likely damage membranes on coral eggs.
It could also damage fish gills, harming their immune systems and increasing the chance of infections, bleeding or possible death.
The park administration said it authorized the event because paperwork provided by organizers said that the foam conformed to standards stipulated by the Environmental Protection Administration.
The administration said it did not analyze the foam's contents before authorizing the event, and that it dispatched personnel to take samples at the venue yesterday afternoon.
Howard Beach Resort vice president Wu Hsuan-tung (吳炫東) said that all the outflows from the hotel grounds are processed by a wastewater treatment plant owned by the hotel, adding that none of the runoff had reached the sea without the foam being removed.
Comments will be moderated. Keep comments relevant to the article. Remarks containing abusive and obscene language, personal attacks of any kind or promotion will be removed and the user banned. Final decision will be at the discretion of the Taipei Times.