Wang brushes off candidacy rumors
REFLECTIONS: The legislative speaker continued to deny he would stand in next year's presidential elections, while in a speech he analyzed the need for parliamentary reform
Legislative Speaker Wang Jin-pyng (王金平) in a speech at National Taipei University of Technology yesterday dismissed a rumor that he was going to announce his presidential candidacy.
The speech was titled: "The Cans and Cannots of the Legislative Speaker: 40 years in legislature."
Speculation has been rife that Wang will announce his intention to represent the Chinese Nationalist Party (KMT) in the presidential election next year, despite his constant denials over the past few months.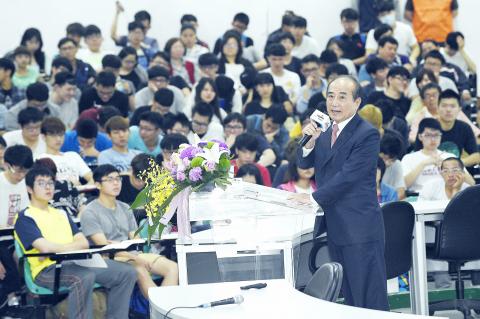 Legislative Speaker Wang Jin-pyng, right, yesterday addresses students at Taipei Technology University, reflecting on his 40 years in the legislature.
Photo: Chen Chih-chu, Taipei Times
Media reports on Wednesday said that he would be "releasing important messages" in yesterday's speech, which had been suspected to be related to his potential presidential candidacy.
Wang said the speculation was nonsense, adding that the speech was not a "political occasion."
"It was only about my 40-year experience in and reflections on the legislature, and my advice to it," he said.
His "advice" echoed calls from the public and both main political parties for a governing system with responsibility commensurate to its power.
"The extent to which the president authorizes and respects the Cabinet determines the quality of policy execution, and only when we have a stable Cabinet can quality policy implementation be upheld," he said. "The most recent two presidents have each had about five premiers during their terms, with a total of 11 premiers taking office during the two presidents' terms; with this frequency of alteration, how far can policy execution go?"
"As the proverb in English says: A rolling stone gathers no moss," Wang said. "This is where the flaw lies in our system; the president has the power, but holds no accountability, while it is the other way around for the premier. The policies come from the president, but it is the premier who has to face the legislature and be bombarded by questions and dressings-down from lawmakers."
On the "cans and cannots" as a legislative speaker, Wang said the autonomy of the legislature must be upheld and that he must remain above the blue-green fray.
"Some accused me of being [covered with a blue skin while having green bones], while the truth is that I am blue-skinned with Taiwanese bones, meaning that I work under the Republic of China with Taiwan's spirit," he said.
He also defended cross-party negotiations in the legislature, which many young people have criticized as underhanded.
"With the current system, we are able to process bills more efficiently, and it is not entirely correct to say that [dealings] have been closed-door, as they are open to lawmakers in general, their assistants and government officials and are audio-recorded," he said.
What a legislative speaker cannot do, Wang said, is frivolously over-interpret his or her power to mobilize police.
"I had been asked to use police power to remove those lawmakers who obstructed the legislative proceedings by occupying the podium, but I have never granted it. The law does not grant me the right to do such thing, which can be done only when public safety is jeopardized," he said.
He laughed off a student's question asking him what he would do to regain people's trust if he was to be elected president, saying the question was "too sensitive."
Wang also declined to provide a clear answer on the question of whether he supports a parliamentary system, emphasizing that his stance as a legislative speaker does not allow him to make public his own views when the legislature is soon to make constitutional amendments with him presiding over negotiations.
Comments will be moderated. Keep comments relevant to the article. Remarks containing abusive and obscene language, personal attacks of any kind or promotion will be removed and the user banned. Final decision will be at the discretion of the Taipei Times.