Lee Hong-yuan might run for president: report
Speculation was rife yesterday that former minister of the interior Lee Hong-yuan (李鴻源) may be planning to run for the Chinese Nationalist Party's presidential primary after a revelation by a political commentator.
While the Democratic Progressive Party appears to have settled on a candidate for next year's election, the KMT is gripped in a power struggle that has fed the rumor mill. And now, in addition to New Taipei City Mayor and KMT Chairman Eric Chu (朱立倫), Legislative Speaker Wang Jin-pyng (王金平) and Vice President Wu Den-yih (吳敦義), Lee could also be a possible candidate.
Political commentator Chen Min-feng (陳敏鳳) said on a political talk show on Wednesday night that Lee, rather than Chu, is a possible candidate who is favored by President Ma Ying-jeou (馬英九) and Wu.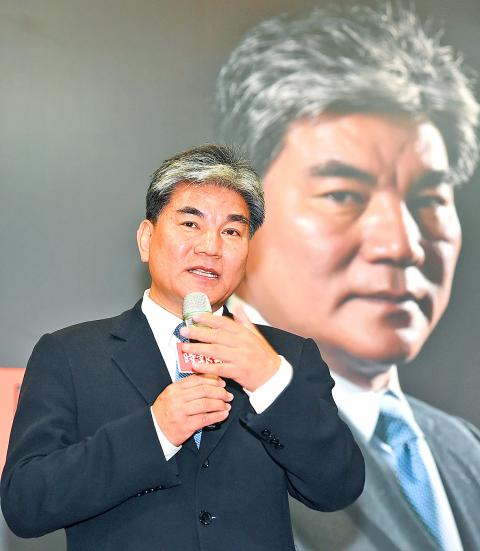 Former minister of the interior Lee Hong-yuan speaks at his book launch on Jan. 7 in Taipei.
Photo: Liao Chen-huei, Taipei Times
KMT Legislator Lee Hung-chun (李鴻鈞), Lee Hong-yuan's brother, dismissed it as a rumor.
"I'm family, but I have never heard of [his plan to join the presidential race]. He has said that he would not be absent [from the election campaign], but that only means he would be glad to offer his advice to the party's presidential candidate and his running mate, whoever they are," Lee Hung-chun said.
The lawmaker was referring to the former minister's comment at a press conference in January for his book launch, when he said: "There definitely will be room for my participation in 2016."
Lee Hong-yuan did not respond to the Taipei Times' call yesterday, but Chen published her "exclusive interview with Lee" online yesterday after her remarks met with suspicions and denial.
"Lee said that so far no one has contacted him [about his possible candidacy], but he does not rule out playing any role in the KMT's presidential campaign, including laying out the policy white paper or becoming a candidate," Chen said.
"He did not deny that some of his friends have offered him advice, including conducting a poll for him, in which he ranked among the top three most favored KMT candidates," she wrote.
Wu, whose poll numbers are too low for him to become a prospective president, has had long-term issues with Chu, and Ma does not want to cede power to Wang, she said.
"The two have thereby formed an alliance [in picking Lee], who has been asked by Wu after last year's nine-in-one elections," she said.
Comments will be moderated. Keep comments relevant to the article. Remarks containing abusive and obscene language, personal attacks of any kind or promotion will be removed and the user banned. Final decision will be at the discretion of the Taipei Times.