FEATURE: Temples offer creative items to attract young people
In a bid to appeal to the younger generation, several temples in the nation have invested in the burgeoning market of creative but functional religious products.
Fusing Temple (福興宮) in Yunlin County's Siluo Township (西螺) was one of the first to launch novel religious items, the temple's management said.
The temple marketed a "Matsu gift box" in 2005 containing bottles of soybean sauce — a famous local produce — as well as other Matsu-themed products, such as backpacks, mobile phone straps, amulets, musical piggy banks, document folders, designer T-shirts and hats, it said.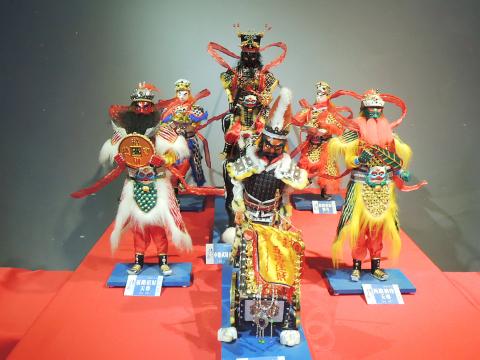 A set of figurines of deities is displayed at the Chaotian Temple in Yunlin County's Beigang Township on Jan. 22. The temple has released an array of novel religious items.
Photo: Lin Kuo-hsien, Taipei Times
Fusing Temple chairman Yang Wen-chung (楊文鍾) said that the aim was not to make a profit, but to create products that integrate the worship of Matsu into local communities, including local businesses and the tourism industry, and bring believers closer to the temple.
Chaotian Temple (朝天宮) in Yunlin County's Beigang Township (北港) has also launched an array of religious goods, including action figurines of deities, amulets and outfits for sedan chair porters, the temple's administration said.
The temple also incorporated elements of glove puppetry by introducing glove puppets of Ba Jia Jiang (八家將) and Guan Jiang Shou (官降首) — guardians of the temples of the nether gods, it said.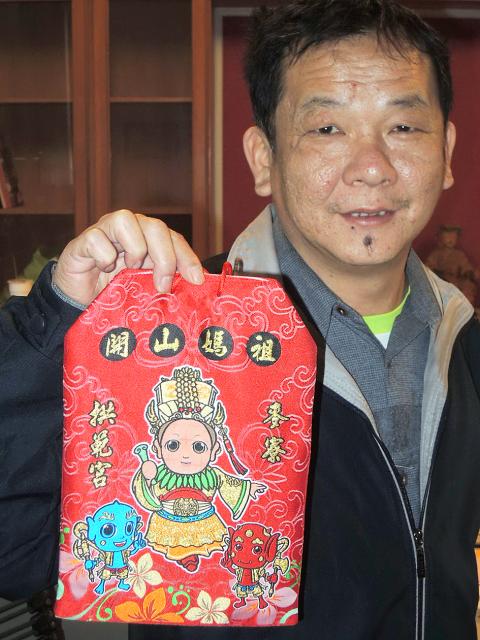 An official of the Kongfan Temple in Yunlin County's Mailiao Township on Jan. 22 shows an outsize incense pouch, which the temple said can be used to keep household registration documents.
Photo: Lin Kuo-hsien, Taipei Times
Beigang Handicraft Workshop president Tsai Hsiang-jun (蔡享潤) said he was elected the temple's "censer master" five years ago, and the experience has given him a better insight into local culture and religious affairs. This has helped him develop many creative products that younger people can relate to, including fortune money notebooks, amulet bookmarks and flag-shaped charms.
Creativity and cultural awareness are keys to making a product that everyone can relate to, he added.
Kongfan Temple (拱範宮) in Yunlin County's Mailiao Township (麥寮) last year launched a multipurpose bag containing rice, salt and stones that purportedly drives evil spirits away, with caricatures of Matsu and her two guardian generals printed on the bag's cover, the temple's administration said.
The temple sold more than 2,000 such bags and made more than NT$2 million (US$63,200), it said.
Kongfan Temple chairman Chang Ko-chung (張克中) said that Taiwan's folk religions are a reflection of the local culture, and people could relate more to religion if it is conveyed through aesthetic images with a touch of humor.
Wude Temple (武德宮), also in Beigang Township, has recruited a group of professionals to develop religious merchandises, including its best-seller action figures of the god of wealth, flag amulets and macaron-shaped traditional offerings, the temple said.
While appealing to people across different ages, these products could be a new way to pass down religion, it said.
Comments will be moderated. Keep comments relevant to the article. Remarks containing abusive and obscene language, personal attacks of any kind or promotion will be removed and the user banned. Final decision will be at the discretion of the Taipei Times.