DPP sets election nomination schedule
DIFFERING OPINIONS: While some senior party members approved of holding the presidential and legislative primaries early, others thought it might be too hasty
The Democratic Progressive Party's (DPP) Central Standing Committee yesterday unveiled its schedule for selecting nominees to represent the party in next year's presidential and legislative elections, triggering divided reactions among party figures.
"[DPP] Chairperson Tsai Ing-wen (蔡英文) has briefed committee members during the meeting on the nomination schedule, and none had other opinions," party spokesman Lin Chun-hsien (林俊憲) told a brief press conference after the committee meeting yesterday afternoon.
"Most members believed that the party performed well in [last year's] nine-in-one elections because it planned ahead, and therefore agreed that the party should accelerate the nomination processes for president and legislators," Lin said.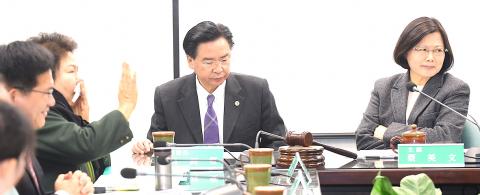 Kaohsiung Mayor Chen Chu, second left, sneezes during the Democratic Progressive Party's (DPP) Central Standing Committee meeting yesterday, with DPP Chairperson Tsai Ing-wen, right, presiding at party headquarters in Taipei.
Photo: Liu Hsin-de, Taipei Times
According to the party's schedule, the official announcement for the presidential primary election will be posted on Feb. 11. Registrations will be accepted from Feb. 12 to Feb. 16, and negotiations for the presidential nominees will end on Feb. 24. The primary campaign will be held from Feb. 26 to March 15, followed by an opinion poll from March 16 to March 18 to gauge the popularity of the presidential contenders, Lin said.
As for the legislative elections, the announcement for the primary will be posted on Feb. 26, the registration period will run from March 2 to March 6, and an opinion poll will be conducted from March 19 to April 10, Lin said.
"The lists of nominees for president and legislators will be made public on April 15," he said.
Opinion on the nomination calendar appears to be divided.
"There is nothing bad about getting the nominations done earlier," DPP Legislator Huang Wei-che (黃偉哲) said.
"Compared with 2012, the process has been moved earlier by a month this time; this way, we can get things settled earlier, and get ready for the election earlier," Huang added.
DPP Legislator Tsai Huang-liang (蔡煌瑯) agreed, saying: "It is earlier this time, but not really that much earlier, so there should not be much of a difference."
"What is more important is whether the nomination mechanism is fair," Tsai said.
Former premier Frank Hsieh (謝長廷) disagreed, saying it might not be a good idea to start the nomination process at a time when legislative by-elections in five electoral districts are ongoing.
DPP Legislator Wu Ping-jui (吳秉叡), a close ally of former premier Su Tseng-chang (蘇貞昌), who is widely expected to be a presidential contender, agreed that starting the nomination process early might not be good for the ongoing legislative by-elections.
"I think we also need to be considerate about party employees and begin the nomination process after the Lunar New Year holiday so that they can enjoy the holiday," Wu said.
Su also questioned whether "it is necessary to do it in such a hurry."
On the other hand, Greater Tainan Mayor William Lai (賴清德) said that he "respects the decision by the Central Election Committee," as "the party must have its own considerations."
Amid speculation that he is also eyeing the presidency, Lai said he does not plan to register in the primary.
Comments will be moderated. Keep comments relevant to the article. Remarks containing abusive and obscene language, personal attacks of any kind or promotion will be removed and the user banned. Final decision will be at the discretion of the Taipei Times.