CAL workers rally over bonuses
BLUFF CALLED? A union member called on the protesters to stand firm after the airline reportedly threatened to remove employees from flight duty
Nearly 1,000 China Airlines (CAL) employees yesterday took to the streets outside the company's offices in Taipei to protest a cut in their year-end bonuses, saying that the "insultingly low" bonuses failed to reflect the company's annual revenue.
The protesters said that China Airlines plans to give its employees a flat year-end bonus of NT$20,000 (US$633) and raises of 2.5 percent, refuting the company's claims that its employees received NT$45,000 each in year-end bonuses — which the employees said included funds from their own pockets that went to employee benefit committees.
Although representatives from China Airlines said that the year-end bonuses were finalized through negotiations with the China Airlines Employees' Union, members of its Third Branch — mostly flight attendants — voted against the union's decision and accused its leaders of "selling out."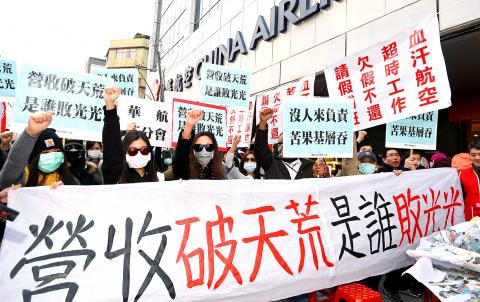 China Airlines' employees protest outside the company's headquarters in Taipei yesterday.
Photo: Chang Chia-ming, Taipei Times
Scores of flight attendants, pilots and mechanics said that the union's leaders should step down, asking the organization's parent body, the Taoyuan Confederation of Labor Unions, to assist in the matter.
The protesters said that given China Airlines raked in annual revenue of NT$149.8 billion last year — the second-highest total in the company's history after NT$153.7 billion in 2010 — their year-end bonuses prompted questions about the company's management policies, adding that the welfare of employees should not be sacrificed as a result of inept managerial decisions.
Despite the chilly temperature in Taipei yesterday evening, the protesters congregated in front of the company's offices, setting up a stage and occupying two lanes of Nanjing E Road while raising placards and chanting slogans.
As the rally was jokingly referred to as a "year-end dinner," a raffle was held and rice noodles with soup were served to the protesters.
Protesters said that tensions escalated over the past week amid warnings that employees found to have participated in protests or petitions would be punished by the company, adding that they might be subject to interviews by managers and suspended from work.
A labor union leader from the Third Branch, who spoke on condition of anonymity, said the company insisted that only "a small minority" of employees were dissatisfied and that leaders of the protests were "dissidents."
She said that it was unbelievable that the company would use such "archaic language" in a bid to prevent their employees from making their voices heard.
Taoyuan Confederation of Labor Unions member Lin Chia-wei (林佳瑋) urged the employees to stand their ground.
"The company has suggested that protesters might be suspended from flights," Lin said.
"Let us see if they have the ability to remove 1,000 employees from service," she added.
The employees also said their year-end bonuses were all the more unacceptable given the "sweatshop-like" labor conditions that airline employees endure.
One pilot said that China Airlines should have no excuse for low profits, as it only employs three pilots per shift instead of four.
Some flight attendants said they were always required to work shifts immediately after they took a day's leave, regardless of their health.
A China Airlines spokesperson said it is treating the issue seriously, adding that employees received an average of two to three month's salary for their year-end bonuses.
Comments will be moderated. Keep comments relevant to the article. Remarks containing abusive and obscene language, personal attacks of any kind or promotion will be removed and the user banned. Final decision will be at the discretion of the Taipei Times.