Activists set rallies for Sunflower anniversary
Leaders of last year's Sunflower movement yesterday called on the public to support their demands for direct democracy by taking part in a large rally scheduled for April 10.
The date marks the one-year anniversary of the Sunflower movement's retreat — when student-led protesters made their exit from the Legislative Yuan's main chamber, after occupying the building for nearly 23 days in protest against the government's handling of a proposed cross-strait service trade agreement.
Organizers of the rally — called Power to the People — said the event would highlight their demands to reform the nation's laws on referendums and recall procedures, which they see as two keystones in ensuring that members of the public have a say in politics.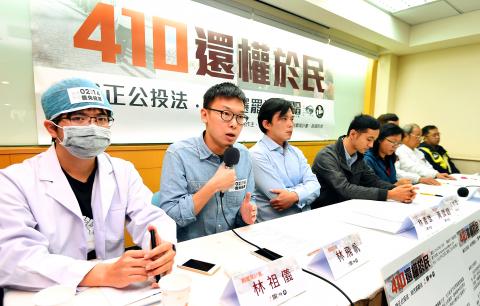 Sunflower movement co-leader and Taiwan March convener Lin Fei-fan, second left, yesterday speaks during a news conference in Taipei to publicize a mass rally scheduled for April 10.
Photo: Lo Pei-der, Taipei Times
They emphasized the importance of direct, participatory policymaking as a way to "correct problems inherent in representative politics," adding that events leading up to the Sunflower movement clearly illustrated the failure of legislators to represent the will of the people.
Sunflower movement co-leader and Taiwan March convener Lin Fei-fan (林飛帆) told a news conference in Taipei that the rally would be a continuation of the ideals expressed during the Sunflower movement.
"Following our retreat last year, many people questioned whether it was the end of the Sunflower movement. However, over the past year, we have seen the hard work and effort put into demands for direct democracy," Lin said.
Critics of the Referendum Act (公民投票法) have long argued that the act's turnout threshold of 50 percent for a referendum to be declared valid is largely unattainable.
The petition threshold for recall referendums — which requires the signatures of 13 percent of eligible voters in a given constituency within 30 days — has also been described as "ridiculously high" in comparison with most other countries.
Appendectomy Project spokesperson Mr Lin From Taipei (台北林先生) said that the public should be able to exercise their constitutional rights in recalling inept politicians, adding that recall efforts should be considered to be just as important as elections.
"Although the right to recall politicians was written into our constitution more than 70 years ago, we have never successfully recalled any government official," Lin said.
On March 18, the organizers are set to hold a smaller parade around the Legislative Yuan compound, coinciding with the day when protesters first swarmed the legislature's main chamber last year.
Comments will be moderated. Keep comments relevant to the article. Remarks containing abusive and obscene language, personal attacks of any kind or promotion will be removed and the user banned. Final decision will be at the discretion of the Taipei Times.