'Hearing dogs' need access: trainer
LEGISLATION URGED: A National Pingtung University of Science and Technology dog trainer wants to see all dogs that help disabled people gain equal public access
National Pingtung University of Science and Technology recently showcased two guide dogs for deaf people from its Working Dog Training School, while calling for the passage of a draft bill that would grant all types of guide dogs equal access to public places.
Sisi (西西), an eight-year-old West Highland white terrier, looks no different from ordinary pet dogs with its small build and lustrous eyes, but is a guide dog capable of distinguishing numerous sounds and sign-language gestures.
Trainer Chen Ching-hui (陳晴惠) said the selection of what are known as "hearing dogs" follows a very strict procedure.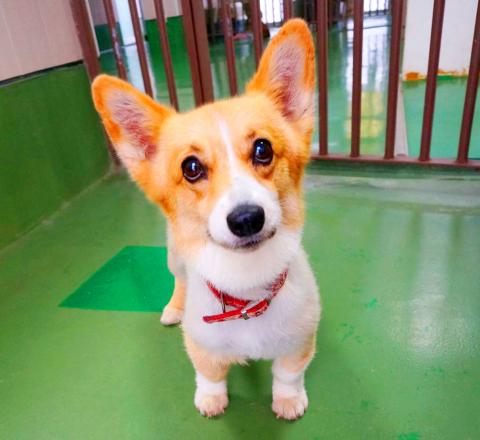 Didi, a Welsh corgi, poses at the Working Dog Training School at National Pingtung University of Science and Technology on Sunday last week.
Photo: CNA
To qualify as a hearing dog, a candidate must show self-restraint before food, unfriendly people and other dogs, she said.
Since the most important qualities for hearing dogs are friendliness to people and being at ease in public places, having a large build is not a prerequisite for choosing suitable hearing dogs — any small-to-medium-sized dog that is people-friendly and diligent could qualify, Chen said.
For example, the first hearing dog in the nation, Ally, is a mongrel who possesses a keen sense of sound and the aforementioned attributes, she said.
The dogs trained by the institute must learn basic obedience before simple orders such as "stay," "sit" and "wait" are taught; they later learn to distinguish sounds including alarm clocks and fire and security alarms.
More complex sounds, such as a train or ferry whistle, cellphone ringtones and crying infants are then added to the training.
"For instance, Sisi learned to tell the difference between alarm clocks, timers, crying babies, doorbells and door-knocking between the fourth and sixth month of training. Sisi can also follow orders to locate certain people," Chen said.
Didi, a six-year-old Welsh corgi and hearing dog trainee, does not know how to fetch people yet, but can differentiate among several sounds and retrieve items, such as a spoon or a remote control.
Saying that hearing dogs are the "little helpers" for deaf people, Chen added that these dogs are not meant to replace hearing aids, but rather provide additional care to their owners when they take off such devices and serve as a companion.
She urged legislators to pass draft legislation that would allow hearing dogs access to public places and transportation.
Comments will be moderated. Keep comments relevant to the article. Remarks containing abusive and obscene language, personal attacks of any kind or promotion will be removed and the user banned. Final decision will be at the discretion of the Taipei Times.