Ex-president Lee lauds Ko's drive, urges prudence
Former president Lee Teng-hui (李登輝) yesterday praised Taipei Mayor Ko Wen-je (柯文哲) for his determination and efficiency in executing policies, but urged Ko to refrain from speaking precipitously, because doing so can be dangerous for a politician.
"Ko is a doctor, so he is used to quickly solving problems or carrying out operations immediately after discovering something wrong with a patient. This is a good thing, but it could also be dangerous," Lee said on the sidelines of an alumni reunion for National Taiwan University's Department of Agricultural Economics.
"[As a mayor] he should be cautious, humble, calm and patient, so that he can better get things done," Lee said.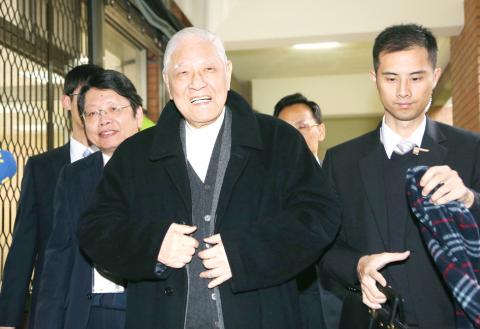 Former president Lee Teng-hui, center, attends an alumni gathering at National Taiwan University's Department of Agricultural Economics in Taipei yesterday.
Photo: CNA
The former president lauded Ko for his efficiency in demolishing the exclusive bus lanes in front of Taipei Railway Station, as it was something that the independent had promised the public before his election and which enjoyed widespread support.
Lee also backed Ko's defense of an agreement on high-school admissions reached between the governments of Taipei and New Taipei City that the Ministry of Education is demanding be adjusted to meet central government guidelines.
Ko recently exchanged fire with Minister of Education Wu Se-hwa (吳思華) over the matter, after Wu insisted that local governments must follow the central government's plan.
Ko stood firmly behind the Taipei-New Taipei City pact, refusing to compromise and saying that the central government should respect local governments' decisions on education.
However, while lauding Ko's determination and efficiency, Lee also warned the former physician against "speaking too hastily."
"Of course he should do whatever he wants, but sometimes things can get out of hand when he talks too hastily. He will gradually learn how things are done one or two years into his term," Lee added.
Having graduated with a bachelor's degree in agricultural economics in 1949, Lee delivered the keynote speech at the alumni reunion yesterday, expressing his worries over Taiwan's low food self-sufficiency and its large number of farms in suspension.
"In the past, more than 80 percent of the nation's overseas export revenue came from agricultural products — that is the income with which Taiwan developed its economy. Therefore, agriculture is the root of the nation's economy," Lee said.
"It's worrisome that, amid a global food crisis, we have a food self-sufficiency rate of little more than 30 percent. Though there are still more than 120,000 hectares of farmland in use, we should not sacrifice agriculture to develop industry," he added.
Comments will be moderated. Keep comments relevant to the article. Remarks containing abusive and obscene language, personal attacks of any kind or promotion will be removed and the user banned. Final decision will be at the discretion of the Taipei Times.